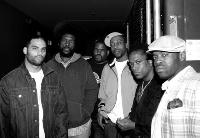 Last month, Questlove of the Roots told Allhiphop.com that the band is working on its 10th full-length album, tentatively called Rising Down.
"We're trying to make number ten as exciting as number one was, as exciting as number five was," he said. "I'm amped that not many groups get ten opportunities to make a statement. Not even Hip-Hop, just period. You can't even count ten records from the same group, that much, maybe on a few fingers. We're very fortunate, and happy, and we are definitely pushing our envelope again."
It's great to read that the Roots continue to work on an album-every-two-years schedule, especially since 2006's Game Theory was excellent. But their main role has always been as hip-hop's certified road warriors that annually play 100+ concerts around the world. After wrapping up a summer jaunt in Europe, they'll return to the U.S. under the auspices of thirtysomething entertainment/celebreality channel VH-1.
This particular package is called the VH-1 Hip-Hop Honors Tour, named after the channel's hall of fame blowout. For those who have seen the band play countless times (like, uh, me), old school legends MC Lyte and Big Daddy Kane will bring some new flavor. Expect plenty of breakbeats and thousand-strong singalongs to "Ain't No Half Steppin'." The tour is part of a U.S. journey that winds through several late summer festivals, and dates are below.
7/28: Randall's Island, New York, NY
7/29: Historic Fort York, Toronto, ON
8/03: Camp Zoe, Salem, MO
8/04: Hutchinson Field, Chicago, IL
8/11: Glen Helen Hyundai Pavilion, San Bernardino, CA
8/18: McCovey Cove, San Francisco, CA
8/25: Alpine Valley, Milwaukee, WI
8/26: Alpine Valley, Milwaukee, WI
8/31: Snow Ridge, Turin, NY
9/13: The Fillmore, San Francisco, CA
9/14: House of Blues, Anaheim, CA
9/15: House of Blues, Los Angeles, CA
9/17: Paramount, Denver, CO
9/19: House Of Blues, Dallas, TX
9/20: House Of Blues, New Orleans, LA
9/23: House Of Blues, Chicago, IL
9/24: House Of Blues, Cleveland, OH
9/27: Norva, Norfolk, VA
9/29: 9:30 Club, Washington, DC
9/30: Rams Head, Baltimore, MD
10/02: Palladium, Worcester, MA
10/03: The Electric Factory, Philadelphia, PA
10/05: Nokia Theater, New York City, NY
7/28, 8/11-8/18: Rock the Bells
7/29: Rogers Picnic
8/03: Big Summer Classic
8/04: Lollapalooza 2007
8/25-8/26: w/Dave Matthews Band
8/31: moe.down
www.theroots.com
www.myspace.com/theroots