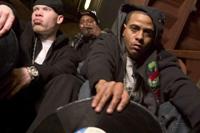 This year has seen a lot of onetime major label heatseekers, onetime prospects who rose from the lowly world of underground rap to tastemaker articles in XXL, resign themselves to dropping indie albums under vastly reduced expectations. Hip-hop acts (nor anyone else, for that matter) usually won't admit that they've been dropped; they'd much rather assert that they left a label of their own volition. (Yeah, right!) Still, what to make of Sa-Ra Creative Partners, Consequence, Raekwon and now Strong Arm Steady dropping albums on indie labels? What happened to the major movement each promised?
To be accurate, Strong Arm Steady is still on Blacksmith/Warner Bros., and are working on a major label debut for 2008. Perhaps I make an ass out of u and me when I assume that the West Coasters won't ever get that title shot, especially since Blacksmith head Talib Kweli is in a career-defining battle to get his Eardrum out — once scheduled for July 31, it got pushed back to August 21.
But hey, let's be positive. Strong Arm Steady's Deep Hearted looks like a beautiful thing. Scheduled for release via Nature Sounds on August 28, the disc features guest shots from the Game, Black Thought, Talib Kweli, Chamillionaire, Juvenile, Planet Asia, tha Liks and a gang of other rappers. Production is handled by DJ Babu, Madlib, DJ Khalil and others. But the spotlight is on Mitchy Slick, Phil the Agony and Krondon, three L.A. MCs who have been slugging it out since the mid-to-late 90s. Talk about patiently waiting! The track listing, along with a YouTube video for their single "One Step," are below.
1. "Intro" (feat. Jack Nicholson & the Game)
2. "The Movement" (feat. Planet Asia)
3. "You Ain't Me" (feat. Chamillionaire & Ras Kass)
4. "Bloody Money" (feat. Pop 'n Bullets & Jelly Roll)
5. "Co-Operation" (feat. Dilated Peoples)
6. "Clean Up" (feat. Black Thought & Saukrates)
7. "One Step" (feat. Talib Kweli)
8. "I Can't Wait" (feat. Tha Liks & Stylistic Jones)
9. "Kings Of The Deck" (feat. Planet Asia)
10. "Come N Get Me" (feat. Ina Williams)
11. "Homies" (feat. Blaqtoven)
12. "Streetlights" (feat. Talib Kweli)
13. "On The Grind"
14. "Wreckless Words"
15. "Dirty Dirty" (feat. Juvenile)
{youtube}LLdct-XqF1o{/youtube}