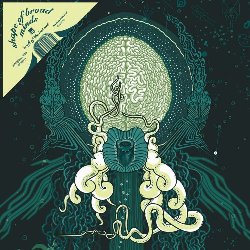 Shape of Broad Minds
Craft of the Lost Art
Lex

Rating:




The narrative behind Shape of Broad Minds is that it splits Jneiro Jarel into several identities: Panama Black, Roc Wun and Dr. Who Dat? The only other real person, it seems, is Houston multi-instrumentalist Jawwaad Taylor. But the furiously brilliant Craft of the Lost Art also diverges between Jarel the producer and Jarel the MC. The qualititative differences between the two are striking.
It comes into focus whenever someone else jumps on his tracks. "So Much (Chaos)" opens with Jawwaad burning from a global nightmare: "Streets of Fallujah, Ramallah/Wild-eyed bomber with no target/They say the babies is heartless, regardless/We reap what we sow/So then, let us gather our harvest." Lil Sci follows with an equally inspired verse: "Too many heads in our culture not repping it right/That's why we're here now/Philanthropists through the mics, feed the hungry with these ill styles." Then Jarel brings up the rear: "Never heard something like this before/And probably won't for two or three thousand centuries more." Although enthusiastic, Jarel lacks the precision of the others.
But if Craft of the Lost Art suffers from Jarel's lyrical deficiencies, he successfully makes his case as one of the most exhilirating beatmakers on the scene today. From beginning to end, he stocks the album with innovative ideas, richly textured rhythms, and powerful tracks. The opening track, "Light Years Away," truly sounds like the future, a textbook study of space-hop with its filtered drums, distorted choral samples, and simulated breathing as if emanating from an astronaut. On "OPR8R" he lifts folk guitar from an Italian film and pairs it with echoing handclaps. "They Don't Know" is a traditional, piano-laced boom bap cut that guest rapper Stacy Epps rips to pieces. Jarel's critics, whom he seemingly references on several cuts, will be hard-pressed to dismiss him as just another J-Dilla mimic.
Still, there's the question of his words. Jarel isn't the best rapper, but he knows how to ride a track; even on "So Much (Chaos)," where he's clearly outclassed by Jaawaad and Lil Sci, his voice blends in. As a vocalist, he doesn't disrupt the music, even if he doesn't necessarily enhance it.
On the final track, "12C," he geeks out over a corporate soul-rock loop that bounces with the light intensity of Slave's "Just a Touch." It's just him and the song fitting together in a harmonious whole. Craft of the Lost Art frequently achieves that balance, even if the sum sometimes doesn't match its disparate parts.