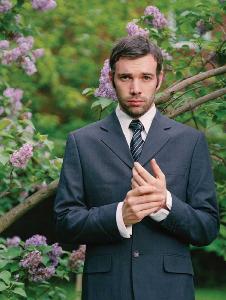 Ricardo Terfry, better known as Buck 65, has enjoyed a large cult following in the United States throughout this decade. Imports of his Canadian albums so are pervasive, in fact, that few realize only one of his albums has officially been released here: the 2000 watermark Man Overboard, thanks to his early affiliation with Anticon. (V2 issued a compilation, This Right Here is Buck 65, in 2005.)
So the new Situation is a major event. Buck 65's current U.S. benefactor is Sage Francis, the Providence, R.I. radical who took him on a successful summer tour, and introduced Buck 65 to a whole new audience. What those kids will encounter is an unusual ride back to 1957, a year recounted through the eyes of several semi-fictional characters. Situation drops via Francis' Strange Famous Records on October 30.
"I've long argued that the roots of hip-hop music go all the way back to folk and blues — even minstrel music that predates the birth of both those genres (take a listen to a song called 'The Gypsy' by Emmett Miller to see where I'm coming from, for example), but I can understand how that could be seen as an unpopular and controversial idea," says Buck 65 in a press release.
Emmett Miller, for the record, comes from the blackface minstrel tradition of the late 18th-early 19th century, where white performers lampooned black culture. Long derided for its blatant racism, some scholars have recently tried to rehabilitate minstrelsy's low reputation, with debatable results.
"Hip hop (and especially the teachings and ideals of Afrika Bambaataa) is very important to what I do," he continues. "But maybe in fairness, it should be seen as some kind of starting point for me. I write songs on a wide variety of topics — many of which are not common ones in hip-hop, admittedly. When writing a song, considerations of hip-hop or street credibility never cross my mind."
Here's the track listing:
1. "Intro"
2. "1957"
3. "Ho-Boys"
4. "Lipstick"
5. "Shutter Buggin'"
6. "Spread 'Em"
7. "The Rebel"
8. "Way Back When"
9. "Cop Shades"
10. "The Beatific"
11. "Mr. Nobody"
12. "Benz"
13. "Heatwave"
14. "The Outskirts"
15. "White Bread'
www.buck65.com
www.myspace.com/buck65