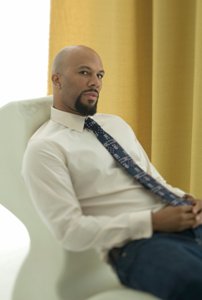 Last week, I posted an item about several spot dates Common will fulfill next month, a few as part of the Heineken Red Star Soul tour. Well, only several days later, it turns out that the much-beloved Chicago rapper will undertake another corporate-sponsored jaunt, too.
Some fans might remember that A Tribe Called Quest reunited last year to headline the 2K7 Sports Bounce tour with Rhymefest and Consequence in tow. This time, Common will lead the 2K8 Sports Bounce tour. According to MySpace bulletins sent out by the artists, opening acts include Q-Tip, who continues to promise that The Renaissance will come out this year; Termanology, a rising Boston MC known for mixtapes and assertions of lyrical superiority; and 88-Keys, a producer who has credits on classics like Mos Def's Black on Both Sides, and who is prepping a solo album, The Death of Adam, for Decon Music. (September 4 update: Percee P has just been added to the tour.)
This is the third edition of the 2K Sports tour; Tribe led the 2006 version, and the Roots inaugurated it in 2005. Also, Z-Trip produced a 2K Sports-affiliated compilation, All Pro, and completed a tour for the album this summer. Which means 2K Sports really likes hip-hop, I guess.
Official details about the tour have yet to be released, but all of the artists have posted dates on their MySpace pages. Those dates, along with the rest of Common's itinerary, are listed below. This post will be updated when official information becomes available.
9/04: Seldom Blues, Detroit, MI
9/05: Mezzanine, San Francisco, CA
9/06: Wiltern, Los Angeles, CA
9/07: Hard Rock Hotel, Las Vegas, NV
9/08: House of Blues, Anaheim, CA
9/09: House of Blues, Las Vegas, NV
9/12: Sunshine Theater, Albuquerque, NM
9/13: The Fillmore, Denver, CO
9/15: House of Blues, Dallas, TX
9/16: La Zona Rosa, Austin, TX
9/18: Opera, Atlanta, GA
9/19: Pageant, St. Louis, MO
9/20: Charter Pavilion, Chicago, IL
9/21: The Myth, Minneapolis, MN
9/22: The Rave, Milwaukee, WS
9/24: Kool Haus, Toronto, ON
9/25: Electric Factory, Philadelphia, PA
9/26: Love, Washington, DC
9/27: Amos' Southend Music Hall, Charlotte, NC
9/28: N Club, Greensboro, NC
9/29: House of Blues, Myrtle Beach, VA
9/30: House of Blues, Orlando, FL
10/01: Tabernacle, Atlanta, GA
10/03: Sonar, Baltimore, MD
10/05: Love, Washington, DC
10/06: Palladium, Worcester, MA
10/07: Nokia Theater, NY, NY
10/08: Norva, Norfolk, VA
9/04: w/Raheem DeVaughn
9/04, 9/26: w/Teedra Moses
9/07: w/Kanye West, Lily Allen (?)
9/18: w/Emily King, Jazzy Jeff
9/20: w/Joss Stone
9/22-9/25, 9/27-10/08: 2K8 Sports Bounce tour w/Q-Tip, Percee P, Termanology, 88-Keys
www.common-music.com
www.myspace.com/common