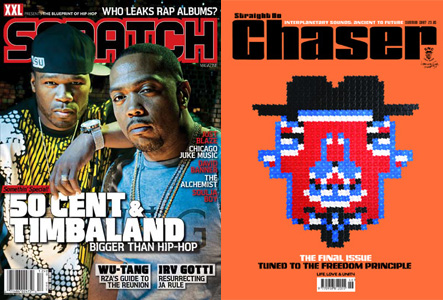 This fall brings the demise of two venerable music magazines, Scratch and Straight No Chaser.
Many expected that Scratch, the better known of the two here in the States, wouldn't last long. Originally launched in 2004 by Harris Publications, it was a failed attempt to capitalize on a burgeoning interest in hip-hop production, studio musicians and crate-digging. In some respects, it was a mainstream version of the same culture that Wax Poetics (launched in 2002) had already successfully targeted. But while Wax Poetics focused on "classic" hip-hop, soul, jazz and deep funk artists such as Pete Rock, the late Weldon Irvine and Roy Ayers, Scratch — which was launched with the help of several Wax Poetics editors — spotlighted the modern-day rap industry.
Straight No Chaser was founded by several veteran UK journalists, including a former editor at The Wire. From the start, its mission was to highlight the acid jazz bubbling around the world. Taking its name from Thelonious Monk's classic song, it became a standard bearer for underground, soul-influenced beat music. Its cover subjects ranged from Madlib to Bjork, and from Jeff Mills to Meshell Ndegeocello.
The two publications could not be more different. Straight No Chaser was a classic UK cult magazine, widely admired by the hundreds of thousands of fans around the world who loved the music it covered and ignored by everyone else. In Britain, where printing costs are (reportedly) much lower, that was enough.
Meanwhile, Scratch was a typically American attempt at taking a subculture — rap geeks who obsess over liner notes — mainstream. It tried to toe the line, offering covers on producers (Dr. Dre, Timbaland, Lil Jon) recognizable to a wide audience. But by the end of its run, it resorted to putting popular rappers on the cover, like Lil Wayne and T.I., that had no real experience as producers.
To its credit, Scratch tried to profile progressive acts (Sa-Ra, for example) in the front of the book and on the back pages. The meat of its coverage, however, was devoted to the same acts featured in XXL, Harris' best known magazine. In fact, some fans derisively called Scratch "XXL, Jr."
Today, the U.S. hip-hop market sorely needs a magazine that covers its culture with integrity and enthusiasm, and has a hip-hop perspective that's bigger than gangsta street codes and SoundScan figures as well as backpacker ideologies. The last magazine to cover that territory, URB, has since evolved into a trend bible similar to The Fader. Most major music magazines in this country continue to cover hip-hop artists known and unknown, but in a marginal form. Their true editorial vision — chronicling trendy youth culture, fashion, and the ever-exploding pop zeitgeist — is decidedly something else.
American music fans who love progressive music would kill to have a magazine as devoted to their interests as Straight No Chaser. Its writing was sometimes amateurish, but its love for the cross-section of poets, vocalists, musicians and iconoclasts was undeniable. A similar U.S. magazine that covers current music and is unafraid to put J-Dilla on the cover — not relegate him to a second-tier headline and a phrase on a T-shirt, as Scratch did for its July/August 2006 issue — is sorely needed.
Scratch lasted 20 issues; Straight No Chaser lasted two volumes and over ninety issues. The final issues for both magazines are on sale now.