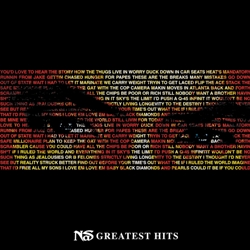 Did you know that Nas' longtime relationship with Columbia Records has lasted longer than nearly any other rapper's? Yes, Nas has been on Columbia for fifteen years, dating back to his 1992 debut single, "Halftime." Only LL Cool J (20+ years with Def Jam) has had a longer tenure at a single label.
That relationship ends with Nas' Greatest Hits. When he signed with Def Jam last year, part of the deal is that Columbia would get rights to two more Nas discs, with one — last year's Hip Hop is Dead — being a co-release. Greatest Hits fulfills his contract with Columbia, and concludes a storied era in hip-hop history.
Scheduled for release on November 6, Greatest Hits contains one new track, "Surviving the Times." It includes most of his best-known hits, from "Life's A Bitch" to "I Can." But fans will have plenty of reason to complain about its dearth of classics, too. Where's "Halftime"? Where's "Nas is Like"? Shit, where is "Ether"? Only God's son knows.
The track listing is below.
1. "Surviving The Times"
2. "Less than an Hour (Theme from Rush Hour 3)"
3. "It Ain't Hard to Tell"
4. "Life's A Bitch"
5. "N.Y. State of Mind"
6. "One Love"
7. "If I Ruled the World (Imagine That)"
8. "Street Dreams (remix)" (feat. R. Kelly)
9. "Hate Me Now" (feat. Puff Daddy)
10. "One Mic"
11. "Got Ur Self A…"
12. "Made You Look"
13. "I Can"
14. "Bridging the Gap" (feat. Olu Dara)
Plug One review: Nas, Hip Hop is Dead