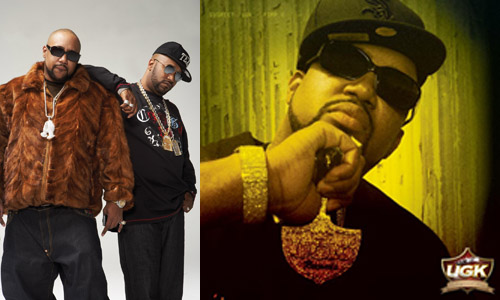 Chad "Pimp C" Butler, who with Bun B formed the Southern rap pioneer Underground Kingz, passed away suddenly this morning at the age of 33. According to Allhiphop.com, one of the first outlets to report the story, he was found dead at the Mondrian Hotel at 9 a.m. Pacific Standard Time when his family called the hotel to report him missing. In response, a 911 call was placed, and paramedics from the Los Angeles Fire Department responded, finding Pimp C dead in his hotel room. No cause of death has yet been determined.
UGK is one of the first Southern rap groups to win the respect of hip-hop fans around the world, including New York fans who, at the time, often refused to accept any form of hip-hop that didn't come from their region. UGK, Geto Boys, N.W.A. and the Posse (including the D.O.C.), Ice-T — these are the artists that made hip-hop a truly universal art form where, in the words of Rakim, "It ain't where you from it's where you at."
As a onetime West Coast head, I'm not going to front like I'm a UGK expert. I first became aware of them back in 1993, when "Pocket Full of Stones," a single from their debut album Too Hard to Swallow, was included on the soundtrack to the Hughes Brothers' cult classic Menace II Society. Pimp C's inimitable twang — "I've got a pocket full of stooones!" — stuck in my head for years.
Below is a statement from Jive, which can be found at UGK's official website.
It is with great sadness that Jive Records announces the passing of Chad "Pimp C" Butler, a member of the celebrated rap duo UGK (Underground Kingz). Jive Records' President and CEO Barry Weiss states: "We mourn the unexpected loss of Chad. He was truly a thoughtful and kind-hearted person. He will be remembered for his talent and profound influence as a pioneer in bringing southern rap to the forefront. He will be missed and our prayers remain with his family and Bun B. I've known Chad since he was 18, and we loved him dearly and he was a cherished member of the Jive family."

Born in Port Arthur, Texas, Butler's father was a trumpet player who played professionally with Solomon Burke. Outside of his father, the 33-year old rapper's influences varied, ranging from Bobby Bland, Jimmy McGriff, the 1960's Motown artists to Run DMC. Butler met his inseparable partner Bernard "Bun B" Freeman in high school where they formed UGK. In 1992, the duo signed to Jive Records and went on release a total of eight albums for the label. They earned their highest achievement earlier this year when their most recent album, UGK (Underground Kingz), debuted in the number one position on the album pop chart. According to the New York Times, UGK "helped inspire a generation of Southern hip-hop stars, from OutKast to Lil Wayne."
UGK's story may not be finished. Ever since 2Pac passed away in 1996, a rapper's death has led to a slew of post-mortem releases, some incredibly vital (J-Dilla's The Shining, the Makaveli bootlegs), others ridiculously unnecessary (Notorious B.I.G.'s Born Again, many of the 2Pac "remixed" albums). The same treatment will undoubtedly be given to UGK, for better or worse. And Bun B, after mourning the loss of his partner, may continue to carry on the name without him.
But at the end of the tale, music historians will point to a handful of key releases. There is the 1996 classic Ridin' Dirty, which Ozone magazine cited as one of 20 essential Southern albums. There was Pimp C's guest spots on classic singles such as Jay-Z's "Big Pimpin'." And this year, there was UGK's collaboration with OutKast on "Int'l Players Anthem," one of the best singles, hip-hop or otherwise, of 2007.
It only seemed right that Pimp C's last great record featured OutKast. In 1996, when the South truly announced its commercial arrival with the controversial rise of No Limit, OutKast and UGK stood as the best the region had the offer. These two groups that were as remarkably talented as anything happening on the two Coasts, which were then locked in a senseless and ultimately violent rivalry. It was poetic that "Int'l Players Anthem" reunited the South's kings, and became the centerpiece of Underground Kingz, the new UGK double-CD that soared to number one on the Billboard charts.
As details of Pimp C's death emerges, many journalists and bloggers will undoubtedly dwell on the sundry aspects of Pimp C's life and work. Certainly, Pimp C was a hardcore rapper. "Pocket Full of Stones" is not about throwing pebbles into a creek. It's a crack dealer's anthem. Pimp C led a troubled life, and the ongoing investigation into his passing will certainly provide fodder for the Internet's growing legion of rap industry gossips. Hopefully, everyone will remember that Pimp C was a talented musician who made great art, and that we would not be talking about him at all if that basic, incontrovertible fact was not true.
Rest in peace.
www.the-ugks.com
www.myspace.com/ugk