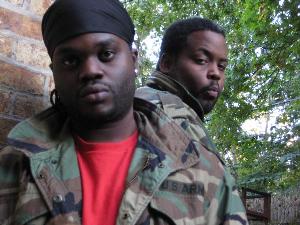 When Vast Aire Kramer began a brief U.S. tour last month, I noted how the Harlem giant had recently disappeared from the national radar. I also mentioned that he and Brooklyn MC Karniege had formed a new group, Mighty Joseph, and would release a new album soon.
Well, how soon is now? The duo has finished its debut album, Empire State, and set a release date of February 26. It will be released by Urchin Studios, the upstart label that issued C-Rayz Walz Collectable Classics trilogy this year.
"Shaped over a 3 yeard period, Empire State unravels a unique perspective, documenting not only much personal change between the two emcees but also the changes in the streets of New York City," reads a press release for the album. "From poverty, to the September 11 attacks, to the abuse of Hip Hop culture in general, Empire State stands strong as a snapshot of the city."
Guests on Empire State include Murs, Poison Pen, and Vordul Mega, Vast Aire's old partner from Cannibal Ox. Madlib, J-Zone, the Beatminerz and Karniege lend production.
The track listing for Mighty Joseph's Empire State is below.
1. "The Uprising"
2. "Beast" (feat. Poison Pen)
3. "Out the Gate" (feat. Genesis)
4. "Kidz (N.Y.C.)"
5. "Blurr"
6. "Anything Can Happen?"
7. "Legend"
8. "Blood Sport" (feat. Vordul Mega)
9. "The Dark Ages" (feat. Murs)
10. "Criminal Tales"
11. "Pandora's Box" (feat. Double AB, Access Immortal & Swave Sevah)
12. "Night Life"
13. "General Stripes"
14. "Rock-It-Science"