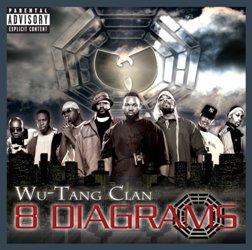 For the past several months, bloggers have twittered and gossipped about the mighty Wu-Tang Clan. When Raekwon and Ghostface Killah called out the RZA and said 8 Diagrams is garbage, the Internet went nuts. And when the track listing for 8 Diagrams mysteriously appeared on some foreign retail sites, everyone jumped in and posted the list as if it were the official U.S. version.
It's become a common occurence: the Internet creates its own reality, and then tries to pass it off as fact. I'm not going to name any names, but it's the same dudes who posted the wrong track listing for Kanye West's Graduation before that album came out. But hey, it's all promotion and marketing when it comes to music, right? All of the buzz, real and fake, only ensures that the mighty Wu will land a top 10 debut when 8 Diagrams hits stores via SRC/Universal on December 11.
Below you'll find the real track listing for 8 Diagrams that was taken from both Universal Music's official media site and Amazon.com. You'll also find an itinerary for the Wu's upcoming tour, which begins December 15. Be warned, though: Ghostface told Billboard.com that all the members may not appear at every show. You've gotta love the drama.
1. "Campfire"
2. "Take It Back"
3. "Get Them Out Ya Way Pa"
4. "Face the Problems"
5. "The Heart Gently Weeps" (feat. Erykah Badu, Dhani Harrison & John Frusciante)
6. "Skit"
7. "Wolves" (feat. George Clinton)
8. "Gun Will Go" (feat. Sunny Valentine)
9. "Sunlight"
10. "Skit" (feat. Robin Harris)
11. "Stick Me for My Riches" (feat. Gerald Alston)
12. "Windmill"
13. "Weak Spot"
14. "Life Changes"
15. "Starter" (feat. Sunny Valentine & Tash Mahogany)
16. "You Can't Stop Me Now"
17. "Watch Your Mouth"
And here are the tour dates:
12/15: Metro, Chicago, IL
12/16: First Avenue, Minneapolis, MN
12/20: Fillmore Auditorium, Denver, CO
12/23: House of Blues, Hollywood, CA
12/30: Showbox, Seattle, WA
01/03: House Of Blues, Las Vegas, NV
01/05: Sunshine Theater, Albuquerque, NM
01/09: Rams Head Live!, Baltimore, MD
01/10: Trocadero, Philadelphia, PA
01/12: Hammerstein Ballroom, New York, NY
01/13: Toad's Place, New Haven, CT
01/14: Higher Ground, South Burlington, VT
01/15: Higher Ground, South Burlington, VT
01/16: Lupo's Heartbreak Hotel, Providence, RI
01/17: Hammerstein Ballroom, New York, NY
01/18: Toad's Place, Richmond, VA
01/19: Norva, Norfolk, VA
01/20: Amos' South End, Charlotte, NC
01/21: Music Farm, Charleston, SC
01/23: Soul Kitchen Music Hall, Mobile, AL
01/24: The Club at Firestone, Orlando, FL
01/25: Jackie Gleason Theater, Miami Beach, FL
01/26: Jannus Landing, St. Petersburg, FL
www.wutang-corp.com
www.myspace.com/wutang