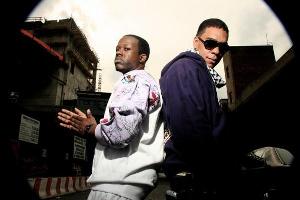 Kidz in the Hall, the Chicago duo that drew acclaim for their 2006 debut, School is My Hustle, announced that they've signed a new contract with Duck Down Records. The first product of the deal will be Naledge and Double-O's new album, The In Crowd. It's currently scheduled for a March release.
The deal is a surprising one. Kidz in the Hall were a cornerstone of Rawkus Records' heavily promoted relaunch last year. The duo, then and now, were signed to Major League Entertainment, while Rawkus handled distribution. But the once-mighty home of Black Star and Company Flow touted the group as if it were its own. Meanwhile, this may be the first time Duck Down has reached outside of its close-knit Brooklyn click to sign an artist.
"Kidz in the Hall were previously signed to Rawkus Records and released their debut, School was My Hustle, on the imprint, but felt Duck Down Records would be the home that could help propel them to the next level," reads a press release announcing the deal.
"I think that this deal is an excellent opportunity to spread our wings. Duck Down Records has proven that they can successfully promote independent acts on a major scale and their enthusiasm in our music let's us know that they are 100% behind making the Kidz In The Hall movement successful," says Double-O in the press release.
Here's a teaser for the album's first single, "Drivin' Down the Block":