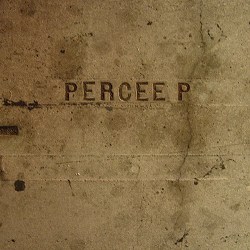 Percee P
Perseverance: The Remix
Stones Throw

Rating:



Perseverance: The Remix revisits Percee P and Madlib's collaborative album from last year. Ostensibly a collection of remixes, it sounds completely different, and in some ways superior, to the original. On Perseverance, Percee P couldn't get out of overdrive; he attacked every track as if it was "Let the Homicides Begin." Meanwhile, Madlib seemed to struggle to fit his slow-to-midtempo tracks with Percee P's unyielding fast raps.
Here, Madlib's music sounds more free and eclectic, stuffing all sorts of random sounds into the mix. A restlessly inventive producer, he can make fantastic beats no matter who's rapping on them. For "Legendary Lyricist," he balances slump disco-funk beat from Mtume's "Juicy Fruit" with the hissing tone from Public Enemy's "Public Enemy No. 1." Fantastic loops gird interludes like "Ox" and "NY." He even switches the beat three times on "Ghetto Rhyme Story."
With Madlib in MVP mode, Perseverance: The Remix doesn't really need Percee P's predictable rhyme schemes. However, the two seem to complement each other better here. The remixes reveal Percee P ably fitting his words against the beat; he doesn't seem as offbeat as before. That allows the attention to shift to Madlib's fantastic tracks, whether it's the flute-wafting melody of "No Time for Jokes" (with an on-point Chali 2na) or the fuzzed-out percussive minimalism of "The Dirt and the Filth" with Aesop Rock.
Perseverance: The Remix doesn't really have a sequence. Some of the best cuts, particularly "No Time for Jokes," fall near the end, while less-impressive efforts such as "The Hand That Leads You" drop early on. Meanwhile, Percee P spits raps at an effective but limited pace. Even a nice ballad dedicated to H.E.R., "The Woman Behind Me," feels like he's anxious and jumpy, ready to let rip. "I'm staying faithful to my style, baby/Yours truly," he raps near its end. That's all fine and good. But if he swtiched up the flow once in a while, he would demonstrate that he's an artist, too, not just a dope freestyle MC.