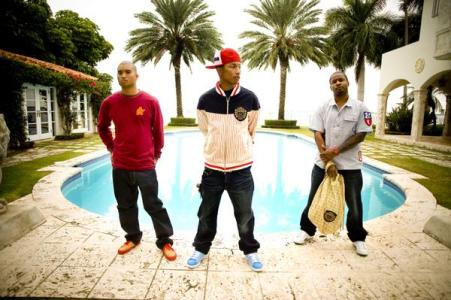 You already know that skateboard icons and coke-rap enablers N.E.R.D. will open for Kanye West on his upcoming "Glow in the Dark" tour. Before that arena outing gets underway, though, Pharrell, Chad, and Shay will embark on a month-long tour through the eastern half of the United States.
The promo tour builds momentum for the group's new album, tentatively titled N.R.3.D.. The album, scheduled to drop on Interscope Records, doesn't have a release date yet. But in keeping with current trends, N.E.R.D. has begun promoting it months ahead of time in hopes that people will actually buy the music (as opposed to download it) when it comes out. For the young influents at SXSW in Austin, Tex. and other lucky towns, that means protracted chants to the strains of "Rock Star," "Lapdance," and N.E.R.D.'s new B-more influenced single, "Everyone Nose."
Check out the dates below.
3/01: Pearl Street Ballroom, Northampton, MA
3/02: Lupo's Heartbreak Hotel, Providence, RI
3/04: Town Ballroom, Buffalo, NY
3/05: House of Blues, Cleveland, OH
3/06: Newport Music Hall, Columbus, OH
3/07: Bogart's, Cincinnati, OH
3/09: The Pageant, St. Louis, MO
3/10: Sokol Auditorium, Omaha, NE
3/11: Liberty Hall, Lawrence, KS
3/12: Cain's Ballroom, Tulsa, OK
3/13: Fader Party, Austin TX
3/14: Stubb's, Austin TX
3/17: The Vogue, Indianapolis, IN
3/18: City Hall, Nashville, TN
3/19: Diesel, Pittsburgh, PA
3/21: House of Blues, North Myrtle Beach, SC
3/22: The National, Richmond, VA
3/24: Coyotes, Louisville, KY
3/25: The Orange Peel, Asheville, NC
3/26: The Valarium, Knoxville, TN
3/28: Free Bird Cafe, Jacksonville, FL
3/13-3/14: SXSW
nerdofficial.blogspot.com
www.myspace.com/nerdofficial