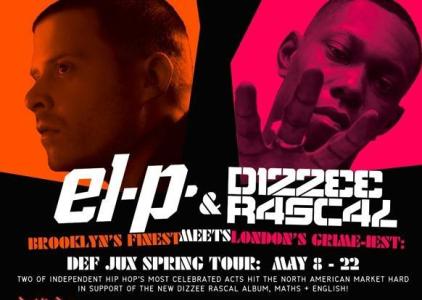 As I reported several weeks ago (along with everybody else), today (actually tonight) marks the beginning of the El-P, Dizzee Rascal and Busdriver tour. Dubbed the No Chiefs Allowed tour, the month-long trek co-stars gutter music advocate Aaron LaCrate (Dizzee's DJ), Mr. Dibbs (El's DJ) and
multimedia artist/MC the Mighty Quin (El's hypeman), and Mush producer/A&R dude Antimc (Bus' DJ). But wait, there's more! Dapper Chi-Town dudes Kidz in the Hall and snarky rapper Aesop Rock will appear as special guests on, uh, special dates.
As an added bonus, El-P is selling a tour-only item, Weareallgoingtoburninhellmegamixx2, a two-CD sequel to his 2003 mix compilation of odds and sods. He has also launched a blog, "Bastard's Delight," on okayplayer.com. Once there, you'll find a stream of El's remix for Kidz in the Hall's "Driving Down the Block." Check it out after peeping the tour dates below.
5/08: 9:30 Club, Washington, DC
5/09: First Unitarian Church, Philadelphia, PA
5/10: Webster Hall, New York, NY
5/11: The Middle East, Cambridge, MA
5/12: New Capital Music Hall, Ottowa, ON
5/14: Crofoot Ballroom, Detroit, MI
5/15: The Abbey, Chicago, IL
5/16: Triple Rock Club, Minneapolis, MN
5/19: Neumo's, Seattle, WA
5/20: Berbati's Pan, Portland, OR
5/21: 1015 Club, San Francisco, CA
5/22: El Rey Theater, Los Angeles, CA
5/08-5/22: w/Mr. Dibbs, Aaron LaCrate, the Mighty Quin, Antimc
5/09-5/10: w/Kidz in the Hall
5/10, 5/21: w/Aesop Rock
www.myspace.com/elproducto
www.dizzeerascal.co.uk
www.myspace.com/dizzeerascal
www.myspace.com/busdriver