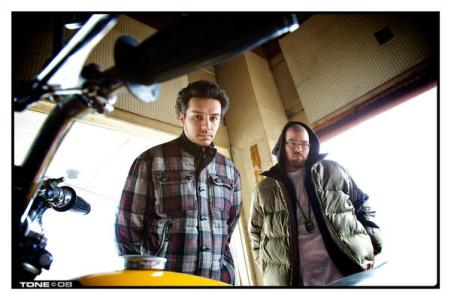 On September 9, Common Market will issue its second album Tobacco Road via a joint venture between Massline Media and Hyena Records.
As the latest project from rising Seattle collective Massline, Tobacco Road marks a number of subtle but noticeable changes. The album cements Common Market's new relationship with Hyena Records, a label and distributor dominated by alt-country, classic rock and jazz-fusion artists. Its release closely follows Common Market's EP, Black Patch War, which dropped last April.
Tobacco Road finds Sabzi unveiling an elegiac, sample-based sound for rapper RA Scion that's distinctly unique from Sabzi's other group, Blue Scholars. Of course, as his Massline compatriots often do, RA Scion peppers his lyrics to leftist/radical ideas from the past century. The title Tobacco Road alludes to a 30s novel about struggling Georgia sharecroppers in the Great Depression. Many of the songs feature themes where impoverished rural protagonists manage to combine spiritual faith with political activism.
"Tobacco Road showcases a more lyrically engaging RA Scion over Sabzi's most creative and melodic compositions to date. It is laden with heavy introspection and RA Scion's staunch personal convictions on life, love and art with meaning, but is noticeably absent of the feeling of pseudo-evangelical idealism," reads a press release for the album. "The album is not an 'easy' read, however, and not fashioned to be fully digested in a single setting. Tobacco Road is comprised of 18 tracks, within which lie hidden gems that the listen will appreciate with dedicated discovery. Upon closer examination, you'll find the incorporation of seasonal progression in reference to the album's agricultural influence."
1. "Service"
2. "Trouble Is"
3. "Gol' Dust"
4. "Slow Cure"
5. "Back Home (The Return)"
6. "40 Furrows"
7. "House"
8. "Winter Takes All"
9. "Weather Vane"
10. "40 Acres"
11. "Nina Sing" (feat. Funklove)
12. "Certitude" (feat. Chev)
13. "Crucible" (feat. Geologic from Blue Scholars)
14. "40 Thieves"
15. "Spits"
16. "Nothin' At All"
17. "Swell"
18. "Tobacco Road"
www.commonmarketmusic.com
www.myspace.com/commonmarket
Photo by Tone.