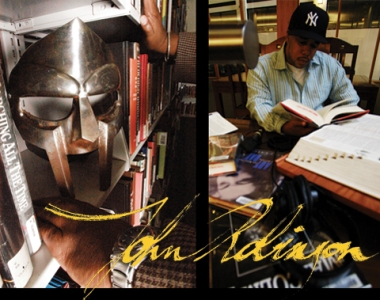 Project Mooncircle announced yesterday that it is releasing a new project from John Robinson (a.k.a. Lil Sci from Scienz of Life) titled Who Is This Man?, and that it will be completely produced by MF Doom.
MF Doom, of course, has stirred up a lot of shit over the past two years, most of it not musical. In recent months, Lex Records has strongly hinted at dropping a Doom album before the end of 2008, but has yet to make details available. So this is the first confirmation of a new project by the Metalface Villain since Dangerdoom's The Mouse and the Mask (yes, it has been that long).
Robinson has worked with Doom for many years going back to the late 90s and Atlanta's ill-fated Nuwaubian era (okay, we won't go there). He has already released an album this year, a collaboration with Carlos Nino called What's the Science? And hey, what a coup for Project Mooncircle, especially after getting a Cyne album earlier this year! Indie hip-hop is alive and well.
Who Is This Man? is due on November 7, and will feature DJ Rhettmatic on the cuts as well. More details soon.
October 6 update: It looks like the album came out via iTunes on September 22. The track listing is below.
1. "Intro/Outside Perspective"
2. "Indy 102"
3. "There She Goes" (feat. Jah Orah)
4. "Shrink Rap"
5. "Invizible Man" (feat. 20/20)
6. "Rapsploitation"
7. "Black Gold"
8. "Expressions" (feat. Tiffany Paige)
9. "Outta Control"
10. "Crazy Music" (feat. Invizible Handz)
11. "The Truth" (feat. Stahhr the Femcee & Invizible Handz]
12. "The Replenish"