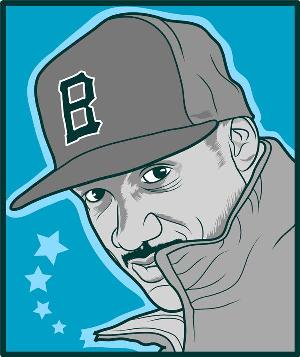 On Monday, November 3, during a performance at Lenny's Bar in Atlanta, Atlanta rapper/producer Chris "Jax" Thurston collapsed from cardiac arrest on stage. He was rushed to the hospital, where he was subsequently pronounced dead. He was 32 years old.
Here's the word from Atlanta blogger and XXLmag.com columnist Maurice Garland via his blog Therezidue.com:
Jax was one third of Atlanta's Binkis Recs (BINKIS: Before Ignorant Niggas Killed Intelligent Songs). For years Binkis was a stronghold in Atlanta's underground rap scene, even aiding in launching the career of DJ Drama pre-Gangsta Grillz. Really, more than just the "rap scene," Hip Hop period. If you were a lover of music, supporter of the culture and resident of Atlanta you'd surely seen these dudes perform and walked away remembering what you saw.
Binkis Recs (Jax, Killa Kalm, and Flux da Wondabat) emerged during Atlanta's indie-rap renaissance of the late 90s alongside MassInfluence, Mars Ill and transplanted New Yorkers such as Scienz of Life and MF Doom. They also helped launch DJ Drama's career. Before Drama got famous as the creator of Gangsta Grillz and the Aphilliates, Drama was the Binkis crew's DJ. (DJ Mafioso is Binkis' current DJ.)
Binkis built its reputation through local and regional shows and by issuing CDs through its imprint, Binkis Records. The closest the group came to national exposure was when their track "Beat You In the Head" appeared on Farewell Fondle 'Em, a memorial to the classic indie imprint issued by Definitive Jux in 2001. In the liner notes, Bobbito pointed out that Binkis never actually recorded for Fondle 'Em:
"Beat You In The Head" is the only song on this compilation that actually was never released on Fondle 'Em, but I really felt that the song captured the spirit of the label and I had always wanted them to be a part of the label's history.
Binkis went on to drop two 12-inch singles on Bobbito's next label venture, Fruitmeat Records: "Bullitt" b/w "Eyearm" and "Marquee" b/w "That's What I'm Talking About." In 2002 the group released its only nationally-distributed album, The Reign Begins, on MF Grimm's label Day By Day Entertainment.
According to Jax's MySpace page, he dropped four solo albums during his lifetime. His most recent effort, Sharper Images, came out last year. According to a story in Creative Loafing, Jax was reportedly performing the title track from that CD when he collapsed that night.
Bobbito posted "Rest In Peace Jax" on the Bounce magazine site, Bouncemag.com:
Last night, my man Chris Thurston, a.k.a. Jax of the Atlanta indie rap group Binkis, passed out on stage during a show during his second verse of a song. The Queens, NY native was rushed to the hospital, and pronounced deceased some hours later due to cardiac arrest. He was 32.

I met the brother back around 2000. Cognito from ATL's group Mass Influence hit me with the Binkis demo, and I wound up putting out their first 12″ wax single on my old Fruitmeat label in 2001. "Beat Your Head" was a WKCR "CM Famalam Radio Program" listener favorite when I'd play it as an unsigned song, so I was happy to help them get their music out internationally by putting it in stores.

More recently, Jax and Binkis member Flux where collabing with DJ Sucio Smash, still making music and doing shows. I last saw Jax in December '07 at DJ Mafiosa's crib, full of life and bugging out as usual. Anytime I was in ATL, he and I would always get together for a bowl of spaghetti and kick it.

He was about to get married to his girl Lisa next week. My prayers go out to his whole family, and to Flux, please keep rhyming my brother.

Love,

Bob
Rest in peace.