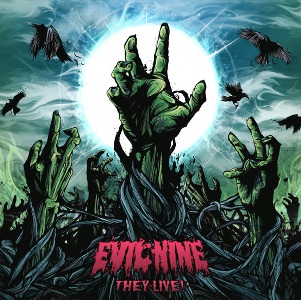 On their new album They Live, Bristol, UK breakbeat/electro duo Evil Nine continues a trend of electronic dudes collaborating with rappers. Set for release via Marine Parade, They Live features contributions from the mighty El-P, Beans from newly reformed Antipop Consortium and British MC Toastie Taylor from New Flesh for Old. The album dropped October 20 in the UK, and comes out February 3 in the States.
Here's a bit from the group's MySpace page:
When we started writing All The Cash it was an awkward, inaccessible and self indulgent piece of music like a lot of our album demos at the time. We loved the bare bones of the track but it needed to change in a big way. We wanted to make it a little more friendly and playable, it kinda ended up a strange mixture of Sonic Youth, Fad Gadget, Run DMC and the BBC Radiophonic Workshop (or maybe not?), which doesn't sound that friendly really.

We've always loved working with hip hop MC's and if there was one person we wanted to work with it was El-P. His rhymes and production totally blew us away the first time we heard him as part of Company Flow but what really grabbed us was his debut solo album 'Fantastic Damage' and his work as part of 'Cannibal Ox'. After a chance meeting with El before our gig at the Coachella festival in L.A. we decided that he was what All The Cash needed and formulated a plan to work with him which involves lots of boring manager stuff.

We're very proud of the outcome and think there's nothing else out there like it, maybe that's why we find it so hard to describe our music?
1. "Feed On You"
2. "The Wait" (feat. David Autokratz)
3. "All the Cash" (feat. El-P)
4. "They Live!"
5. "Ngempa Guzom"
6. "How Do We Stop the Normals?"
7. "Dead Man Coming" (feat. Toastie Taylor)
8. "Set It Off" (feat. Beans)
9. "Behemoth"
10. "Born Again"
11. "Twist the Knife" (feat. Emily Breeze)
12. "Luke Goss"
13. "Icicles" (feat. Seraphim)
Download: Evil Nine_All The Cash