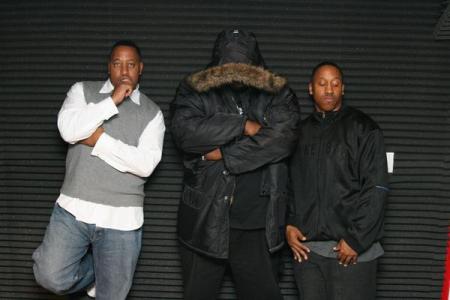 Bay Area rapper, onetime member of Foreign Legion and former Plug One contributor Marc Stretch (above, center) has a new group called Marval Team Up (not to be confused with Marvel Team-Up). The trio also includes rapper Mondo and DJ Ray. Marval Team Up specializes in — what else? — that good ol' boom bap.
Here's the email he sent out to friends and fans yesterday:
2009 promises to be a big year. The music industry is (like most things) on the border of change. Things will never be the same as they were during those lovely days of the independent music revolution. People don't have money for the finer comforts anymore. The world is in an uproar over a myriad of things. And Jay Leno is still not funny.

But one good thing remains. MUSIC. If you reflect back, I'm sure that you'll agree that some of the best music was made during the worst of times. Well guess what, ain't nothing changed.
Marval Team Up are introducing themselves to the international blog circuit by issuing their debut album, Soul's Reflection, for free. You can download it here.