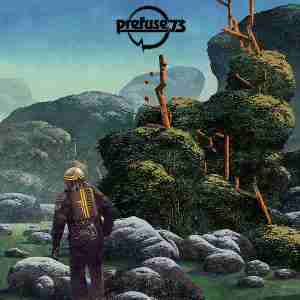 Scott Herren will release the next Prefuse 73 epic, Everything She Touched Turned Ampexian, through Warp Records on April 21.
Much like his last Prefuse album, Preparations (and unlike much of his early Prefuse output), Herren won't have any guests, save for an appearance  from German beatmaker Dimlite and, it seems, L.A. DJ/promoter/troublemaker the Gaslamp Killer. After Ampexian drops, he'll follow up, as usual, with an EP of loose ends titled The Forest of Oversensitivity sometime in the summer.
The new Prefuse album kicks off a busy year for Herren that includes a new Savath y Savalas album and a project with drummer Zach Hill (Hella, Marnie Stern) called Diamond Watch Wrists. More news on those projects shortly.
But first, here's a bit from the press release:
Guillermo Scott Herren (aka Prefuse 73) is nothing if not proven. It's hard to think of a name that carries as much weight in both hip-hop and avant-rock circles as Prefuse 73, who in the past year alone has been asked to remix TV On The Radio, Pelican, BLK JKS and Cornelius, not to mention his early collaborations with School of Seven Bells and Battles. These interactions have clearly helped to shape the evolving Prefuse 73 sonic aesthetic, which has expanded to include Herren's twisted visions of prog-rock, "machine funk" and global psychedelia.

For Everything She Touched Turned Ampexian, Herren rejected the idea of straight digital recording and instead went the much more intensive route of recording to analog Ampex tape, giving the album the sound of a lost tape of exploratory studio musicians from the not-too-distant past. In addition to the recording process, Ampexian also differs in its composition, existing as a tapestry of tracks of varying lengths and moods, albeit with a remarkable linear flow and, of course, unmatched rhythmic bump.
In a January MySpace post dedicated to a recent citation from BetterPropaganda.com as "Artist of the Decade," Herren dropped these jewels about his state of mind pre-Ampexian:
Honestly, at this very moment I have been doing nothing more than micro managing all of these upcoming releases for this 2009 year and not one aspect of doing this can I consider easy – I'm dropping possibly more than I've ever released at once. This has brought on such a ridiculous amount of administrative work from coordinating the concepts behind where and what makes sense regarding: (errgh) budgets, all the artwork, patience(I try), press related things we must do, organizing tours, one offs, letting friends know that I'm just crazy busy but still love them the same.
1. "Periodic Measurements of Infrequent Smiles"
2. "Hairy Faces (Stress)"
3. "Parachute Panador"
4. "NoNo"
5. "Punish"
6. "Half Up Front"
7. "Sexual Fantasy Scale"
8. "DEC. Machine Funk All ERA's"
9. "Get 'Em High"
10. "Ampexian Tribe of a Lesser Time"
11. "When Is A Good Time?"
12. "Fountains Of Spring"
13. "Whipcream Eyepatch"
14. "Regalo"
15. "Rubber Stems"
16. "Oh Is It"
17. "Four Reels Collide"
18. "Fringertip Trajectories"
19. "Violent Bathroom Exchange"
20. "Nature's Uplifting Revenge"
21. "Yuletide"
22. "Simple Loop Choir"
23. "No Lights Still Rock" (feat. Dimlite)
24. "Gaslamp Killer Feedback Text"
25. "Digan Lo"
26. "Preparations Kids Choir"
27. "Pitch Pipe"
28. "Periodic Measurements Of Infrequent Frowns"
29. "Formal Dedications"