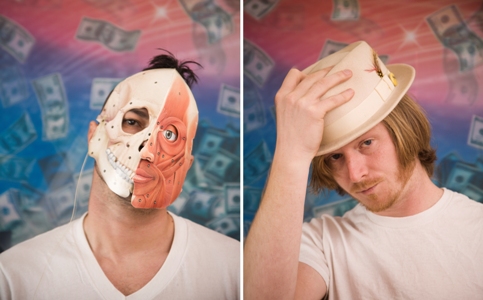 Themselves, better known as Dose One and Jel, are a core part of the Anticon mythology. First hatched while the two were living in Cincinnati, their self-titled debut (as Them) captures Dose One just as he was transforming from the eccentric battle MC who fought Eminem to a standstill at Scribble Jam to the speed-rapping poet behind the masterwork cLOUDDEAD. Their second album, 2002's The No Music, found the duo in near-meltdown — dealing with beef between Definitive Jux and intranecine squabbles amidst Anticon crew — and exploring a promising outlet in Subtle, which eventually became a full-time distraction.
Six years later, Subtle is going on an extended hiatus, and Themselves is returning to the fore. The duo announced its comeback in January via a string of funny YouTube videos  (one of them is posted below). They'll perform a few tastemaker shows, and, more importantly, plan a beef-squashing mixtape next month featuring onetime collaborators (and onetime rivals) Slug and Aesop Rock, as well as Busdriver, Buck 65 and others. Their third album, CrownsDown, is set for an August release.
Last month, Dose One posted this message on Themselves' MySpace page:
it's them…it's them again indeed…

jel and I are back, in the saddle of the music that found us…
putting the teeth back in rap…
we are hard at work finishing whole harddrives full of new music….

let's just say,
our new works are deadicated two fold…
once to the music we listened to in highschool…
and once to the goodpeople who listened to us in highschool…
putting the hunger back in the hound…

so it's back….
to the drum and the word….
and the carnal number of rap….
the2

so stay tuned….
keep your ears lit and your heart's peeled,
cause this here, is the year of theANT…

and we are back to burn….
(March 2 update: Themselves has just extended its itinerary to a full-fledged tour schedule. The new dates are listed below.)
2/28: Apple Store, San Francisco, CA (in-store)
3/08: Hunter Paid Gallery, Arcata, CA
3/14: The Point After, Palm Springs, CA
3/15: Beauty Bar, Las Vegas, NV
3/18: Red 7, Austin, TX
3/18: Mohawk, Austin, TX
3/19: Beauty Bar, Austin, TX
3/19: Smokin Music, Austin, TX
3/20: Side Bar, Austin, TX
3/25: Firebird, St. Louis, MO
3/26: Empty Bottle, Chicago, IL
3/27: Pike Room, Pontiac, MI
3/28: Sneaky Dee's, Toronto, ON
3/29: Club Lambi, Montreal, QC
4/01: Great Scott, Boston, MA
4/02: Terrace F Club, Princeton, NJ
4/03: Union Pool, Brooklyn, NY
4/04: Webster Hall, New York, NY
4/06: The Barbary, Philadelphia, PA
4/07: DC9, Washington, DC
4/08: The Lantern, Blacksburg, VA
4/09: 529, Atlanta, GA
4/10: Bottletree Cafe, Birmingham, AL
4/11: Spanish Moon, Baton Rouge, LA
4/14: Mohawk, Austin, TX
4/16: Rhythm Room, Phoenix, AZ
4/19: Coachella, Indio, CA
2/28: Noise Pop Festival
3/18-3/20: SXSW

Conan & Friends Part II from anticon. on Vimeo.