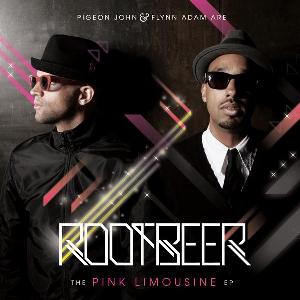 If you're waiting for Pigeon John's first album since 2006, you'll have to wait a little bit longer, as he has just started a new project called, oddly, Rootbeer. The group pairs him with former L.A. Symphony associate Flynn Adam. Here's a description from their MySpace page:
The simple shortcut to that Rootbeer descriptive word puzzle could be something like "MGMT injected with some N.E.R.D and A Tribe Called Quest". As clearly evident in their lyrics and style, Flynn Adam and Pigeon John are unapologetic purveyors of popular culture. Rather than making an escape attempt on this debut to something that was some subtle artistic departure from the Lost Angels-flavored West Coast underground laid back rap that raised them, the duo has grown more apt to fully open their arms and embrace a vast array of what is relative to their own contemporary culture consumption today.
Plans to embrace "contemporary culture consumption" begins later this week when Rootbeer embarks on a national tour that, of course, winds through SXSW. The run will promote their debut EP, Pink Limousine, which they'll apparently release themselves (with help from Cornerstone R.A.S.?) on March 10. Pigeon John and Flynn Adam will perform solo material during these shows as well.
3/06: 210 North, Reno, NV
3/07: Boreal Ski Resort, Truckee, CA
3/10: Fingerprints, Long Beach, CA (in-store)
3/10: House of Blues, West Hollywood, CA
3/10: Cinespace, Los Angeles, CA
3/11: The Downtown Independent, Los Angeles, CA
3/13: Access Music, San Diego, CA (in-store)
3/14: Space, 1520 Los Angeles, CA (in-store)
3/14: University of California-Santa Barbara, Goleta, CA
3/15: Globe, Pomona, CA (in-store)
3/17: Chasers, Scottsdale, AZ
3/19: Vice, Austin, TX
3/21: Austin Convention Center, Austin, TX
3/23: Moonlight Lounge, Albuquerque, NM
3/24: The Marquis Theatre, Denver, CO
3/25: The Urban Lounge, Salt Lake City, UT
3/26: Zebra Cocktail Lounge, Bozeman, MT
3/27: Nectar, Seattle, WA
3/28: Someday Lounge, Portland, OR
3/29: WOW Hall, Eugene, OR
3/30: Bottom of the Hill, San Francisco, CA
3/31: Tonic Lounge, Reno, NV
4/01: Blue Lamp, Sacramento, CA
4/02: The Cellar Door, Visalia, CA
4/03: Velvet Jones, Santa Barbara, CA
4/04: Detroit Bar, Costa Mesa, CA
3/06: w/Murs, Z-Trip
3/10: Good Life reunion
3/14, 3/17, 3/23-4/04: w/Who Cares
3/19-3/21: SXSW
Rootbeer, "Pink Limousine"