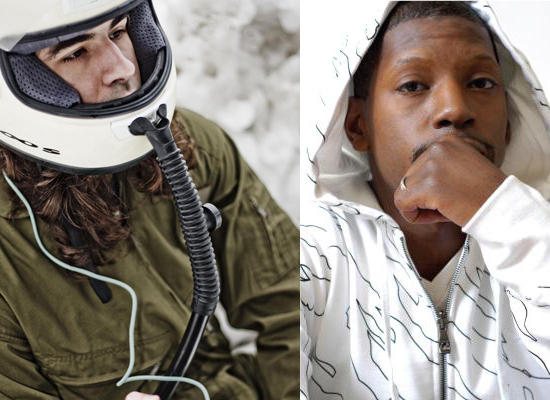 Underrated Portland rapper Braille (above, left) has a new project out with producer Symbolyc One from Texas group  Strange Fruit Project called Cloud Nineteen. The album, which dropped via Braille's Hip Hop Is Music imprint, features appearances from his group Lightheaded, Strange Fruit Project, turntablist Rob Swift, Vursatyl from Lifesavas, breaks producer Shawn Lee and Theory Hazit.
To promote the album, Braille and S1 are embarking on a monthlong tour that includes community centers, churches and even warehouses. It may sound random, but at least they're caking — instead of dropping free MP3s with bootleg Dilla beats and waiting for Def Jam to sign them.
Tour dates are below!
2/25: Calvary Fellowship, Mountlake Terrace, WA
2/26: Bendistillery Martini Bar, Bend, OR
2/27: Berbati's Pan, Portland, OR
2/28: Vera Project, Seattle, WA
3/01: 10800 NE 76th St, Vancouver, WA
3/03: Bill Wilson Center, Santa Clara, CA (early show)
3/04: The Barn, Riverside, California
3/05: Salvation Army, Compton, CA
3/05: Little Temple, Los Angeles, CA
3/06: 3065 Bever Blvd, Ste. B-102, San Diego, CA
3/07: Salvation Army, Escondido, CA
3/07: Saddleback Church, Lake Forest, CA
3/10: Stray Cats, Tempe, AZ
3/12: The Dove, Flagstaff, AZ
3/13: Open Aired, Winterhaven, CA
3/15: Victory Outreach, Albuquerque, NM
3/18: The Center, Irving, TX
3/19: Rip Rocks, Denton, TX
3/21: George Washington Carver Museum and Cultural Center, Austin, TX
3/23: Fletcher Mission Center, Houston, TX
3/21: SXSW
Braille photo by Ohmega Watts.