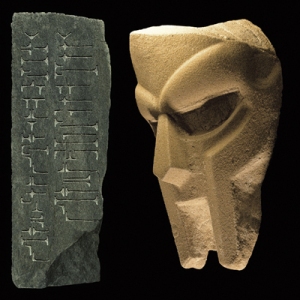 As many of you already know, Lex Records will release DOOM's new album Born Like This on March 24. Here's the usual bio excerpt:
Mask-wearing hip-hop maverick DOOM (previously MF Doom) unveils his imminent new album, BORN LIKE THIS – a tour de force of thrillingly intricate and diabolically original songwriting. …

As well as head-spinningly complex, reference-rich rhymes, DOOM also provides the majority of the peerless production himself with just 2 tracks here featuring the studio skills of others. Credit for crafting the bouncies of beats on short yet sweet BALLSKIN goes to Washington's Jake One, whilst the much-missed J Dilla's magical psychedelic jamboree illuminates LIGHTWORKS. Guest vocalists include founding Wu Tang Clan members Ghostface and Raekwon, with the former appropriately appearing in his cartoon-inspired Tony Starks guise. BORN LIKE THIS takes its title from Charles Bukowski's dystopian poem, 'Dinosauria, We', read by its author and re-scored by DOOM on CELLZ. Sharp-eared followers of the interesting end of hip-hop may recognize some of the album's lineage – the instrumental of LIGHTWORKS is a highlight of J Dilla's Donuts and an early demo of ANGELZ has circulated in cyberspace – however, the rest of the newborn record's 16 tracks are 100% fresh and, until now, unheard.
1. Supervillain Intro
2. Gazillion Ear
3. Ballskin
4. Yessir! (feat. Raekwon)
5. Absolutely
6. Rap Ambush
7. Lightworks
8. Batty Boys
9. Angelz (feat. Tony Starks, Raekwon & Paloma Faith)
9. Cellz
10. Still Dope (feat. Empress Sharhh)
11. Microwave Mayo
12. More Rhymin' (feat. Kurious)
13. That's That
14. Supervillainz
15. Bumpy's Message
16. Thank Yah
DOOM, "Ballskin"