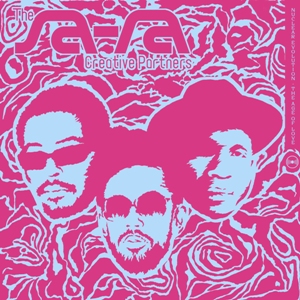 On June 9, Ubiquity Records will release Sa-Ra Creative Partners's long-awaited  Nuclear Evolution: The Age Of Love.
Although technically Sa-Ra's second album, Nuclear Evolution may be their first proper full-length. 2007's The Hollywood Recordings was a mish-mash of old singles and material from their aborted Black Fuzz sessions for G.O.O.D. Music/Sony. However, this is a "completely new and original album," according to the press release. It should also dispel persistent rumors that the collective has broken up.
Guests include Erykah Badu, Brook d'Leau from J*Davey, Gary Bartz, Jimetta Rose and others. Speaking of that press release, here's a longer excerpt. (May 31 update: The release date has been changed to June 24.)
The SA-RA Creative Partners™ is a trio of accomplished musicians, producers and trendsetters, comprised of Om'Mas Keith, Taz Arnold and Shafiq Husayn. On their musical quest they have dazzled with amazing productions, collections, mixes and remixes. But now, for the first time, with Nuclear Evolution: The Age of Love, they deliver a completely new and original album. Built from scratch, it's a truly coherent and innovative body of work. Musical, adventurous, and even more evolved than anything they've done before, Nuclear Evolution also shows a controlled, polished, and in-the-pocket side to their work. It is an album on which SRCP™ shine as the innovative musical force they promised to be, ever since the cult hit "Glorious" first shattered bass bins and minds worldwide.

Whether on the otherworldly opus "Love Czars," the bombastic soul of "I Swear," or twisted tales of drug-fueled-freaks on "Traffika," Nuclear Evolution: The Age of Love blends next-level production with a unique and unconstrained blend of street wit, dirty-sex talk, tall stories, and intergalactic future sounds, and is set to become essential listening for the summer of 2009. …

Helping SRCP realize their potential on Nuclear Evolution is a crew of friends and co-conspirators that includes legends like soul chanteuse Erykah Badu, and saxophonist Gary Bartz with his quartet. The album also features up-and-coming talent like Debi Nova, Rozzie Daime, Noni Lamar, Erika Rose, Brook D'leau of J*Davey, Joseph Liemberg, Fenetta Lowe & Jimetta Rose. Easy to like, but difficult to pigeon hole, the album oozes equal parts jazz, soul, pop, funk, and hip-hop. The eclectic collection of productions bounces from the sticky and bubbly soul of "Gemini's Rising", to the string laden bump of "He Say She Say," and the outer-worldly bossa nova of "Spacefruit."

Sticking together through more than their fair share of highs and lows, the group channeled their collective energies to create what is arguably their best work to date. "There is something powerful about the Number 3. A triangle is architectures most structurally sound shape," explains Keith. "And there is a sense of brotherhood among us, the strong sense of purpose we all share in our will to cleanse the proverbial palette of music!" he adds. Having won the BBC Radio 1s' "John Peel Play More Jazz Award" at the end of 2004, the band embarked on a fruitful relationship with mega star Kanye West. They signed a major recording deal with his GOOD Music Label, then distributed by Sony. Their plan was to release their Black Fuzz album through Sony Urban and follow-up with the Ubiquity album. However, as with the best made plans (especially those involving major labels,) Black Fuzz has yet to be released. After much pressure from fans and executives at Babygrande records, SRCP opted to release a one-off project entitled The Hollywood Recordings, an album of new and previously released material. In 2006 rumors floated on the internet that the group had disbanded. An exclusive interview with Shafiq Husayn, on okayplayer.com, squashed that rumor. The band is alive and well, and they still maintain a strong relationship with West, recently appearing in a video with him, Andre 3000, and Fonzworth Bentley.
Disc 1:
1. "Spacefruit"
2. "Dirty Beauty" (feat. Erykah Badu)
3. "I Swear"
4. "Melodee N'mynor"
5. "He Say She Say"
6. "Traffika"
7. "Souls Brother"
8. "Bitch Baby"
9. "Love Czars"
10. "Gemini's Rising"
11. "The Bone Song"
12. "White Cloud"
13. "Move Your Ass"
14. "Love Today"
15. "Can I Get You Hi"
16. "My Star"
17. "Cosmic Ball"
Disc 2:
1. "Spaceways Theme"
2. "Just Like A Baby"
3. "Double Dutch (Co Co Pops)"
4. "Death Of A Star (Supernova)"
5. "Powder Bump"
6. "Hangin By A String"