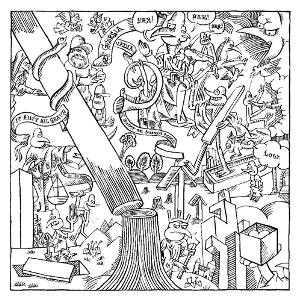 In late 2007, Jneiro Jarel and Khujo Goodie announced they were recording together under the guise Willie Isz; they subsequently leaked several well-circulated tracks on the Internet. Now comes the full length.
Georgiavania is a notable departure for Jarel, best known for his pioneering beat production under a variety of pseudonyms, including Dr Who Dat (through which he dropped the digital album Beyond Tomorrow earlier this year). Meanwhile, it reintroduces Khujo to rap fans who mostly associate him with the great Southern rap group Goodie Mob.The title Georgiavania is a hybrid of Jarel's hometown Pennsylvania and Khujo's native Georgia.
Willie Isz's Georgiavania drops in June on Lex Records. The above image, illustrated by James Jarvis is from the promo sampler; it's unclear if it will be used for the album. (May 15 update: The new release date is June 16 has been changed again to June 30.)
Here's more from the bio:
The central concept and inspiration at the heart of the album is an imaginary 51st US state named Georgiavania. The original, cherished yet often forgotten constitutional values of hip-hop are celebrated with Willie Isz keeping it braggadocio, street smart and straight-up banging throughout. However, in this new, near-utopian territory the tired hiphop cliches of the past – swearing, sexism, homophobia, drug and gun talk – have been banished allowing a newfound, refreshing honesty and openness to prevail. In Georgiavania's post-hip-hop paradise Willie Isz combine Southern hip-hop styles such as Crunk and Snap music with rock and psychedelia-infused influences, and the duo consciously avoided sampling in favour of live instrumentation and a super-fresh sound.
Here's the tentative track listing. I'll update it if more information becomes available.
1. "Willie Intro"
2. "Blast Off"
3. "Georgiavania"
4. "Loner"
5. "Gawn Jet" (feat. Tunde Adebimpe)
6. "I Didn't Mean To"
7. "U Want Some?"
8. "Prepare Fo It (Spiritual Gladiators)"
9. "The Grussle"
10. "Violet Heart Box"
11. "Autopilot"
12. "Shine"
13. "In The Red"