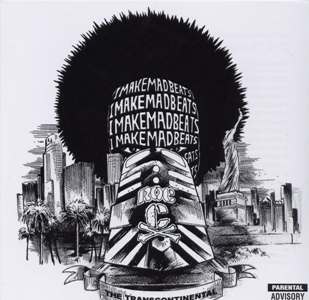 Remember last fall when Roc 'C' and Oh No announced a new project called The Transcontinental? Well, the album is here. The Transcontinental drops May 19 on E1 Music (formerly known as Koch). Guests include Big Pooh and Chino XL, who appear on the album's first single, "The Warriors."
The only mistake I made, I seems, is that IMAKEMADBEATS isn't a pseudonym for Oh No, but a completely new artist.
Confused? Read this from the bio:
The madman turned producer, then producer turned madman, IMAKEMADBEATS, also known as NeMo, has just began what many call a masterful reign of musical artistry on the Hip-hop world. Born in Fontana, California, raised in Memphis, TN, and higher educated in Orlando, FL and later, NYC, this character has seen his share of culture, styles, and societies. He hails from a diverse lineage, his father was born in Memphis, TN, and mother in Guyana, raised in England, UK. Drawing from all these experiences, his contributions to The Transcontinental provide the vivid backdrop for this musical journey. …

Roc C and IMAKEMADBEATS join forces to create a journey in beats, drawing from all aspects of American Hip-hop from the fertile lands of Oxnard California all the way to the gritty streets of New York City. Join us as we are taken down a trail of real life experiences seeded with Hip-hop exuberance from the left bank to the right, travelling from coast to coast.
Here's the track listing:
1. "Introduction" (feat. Not Dr. Trevis)
2. "Still Here"
3. "Just A Man"
4. "The Warriors" (feat. Big Pooh & Chino XL)
5. "Blakout" (feat. MidaZ the Beast)
6. "The Official Smash Mouf" (feat. DJ Romes)
7. "Imagine That" (feat. Felony)
8. "All I'm Asking" (feat. Viva)
9. "By Any Means"
10. "Struggle"
11. "Whisper Music"
12. "Won't Fall"
13. "Hit The Floor"
14. "The One I Love"