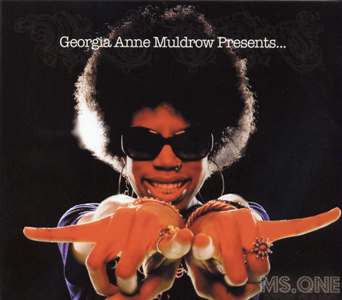 I have mixed feelings about these Georgia Anne Muldrow collaborations. On the one hand, it's cool that she's replicating the kind of free-flowing spiritual jazz community that inspired her so much. But I'm still waiting on a proper follow-up to her solo debut — and best album — Olesi: Fragments Of An Earth. None of her subsequent projects have had the same kind of incantatory power.
But for now, her new comp Ms. One will have to do. It features guest spots from a range of artists, including her partner Dudley Perkins (congratulations on their new baby), Jimetta Rose, Eagle Nebula, Stacey Epps, Black Milk and Big Pooh. Ms. One produces all of the tracks.
Georgia Anne Muldrow presents Ms. One drops May 5 via SomeOthaShip and E1 Music (formerly known as Koch). (May 8 update: The release date has been changed to May 19.) Here's a bit from the press release:
Georgia Anne Muldrow, who birthed the new millennium hip-hop soul movement, is the producer/singer/songwriter phenomenon who keeps on giving. The Ms. One compilation album is her latest gift of truth and inspiration to a troubled world. Fine musical artistry and compelling lyricism by every artist on the project makes this a beacon of light amidst a dark musical landscape. The bold, bright genius of Ms. One takes hip-hop and soul music to the higher place we all know it should be.

Georgia Anne Muldrow is an American singer and producer formerly signed to Stones Throw Records. She was the first female artist signed to the label and is currently in a relationship with fellow former Stones Throw artist Dudley Perkins. The two recently gave birth to a baby boy. Aside from their relationship the two have also collaborated together on several records including the critically acclaimed G&D project released by Look Records in 2007.

Georgia's father is the late jazz guitarist Ronald Muldrow, her mother is Rickie Byars-Beckwith and stepfather is Rev. Michael Beckwith, the musical director of Agape Spiritual Center in Culver City, CA and the teacher in the Movie and book The Secret. Her early work involved collaborations with the Platinum Pied Pipers and Sa-Ra. Most recently she was featured on Erykah Badu's latest album on the track Master Teacher. Georgia is known for playing the majority of instruments featured on her recordings. She has also started producing for various artists including Black Milk, Little Brother, Stacey Epps and more. Her vocal style and musical accompaniment often are free-form in nature and truly something unique.
Here's the track listing:
1. Georgia Anne Muldrow, "Return"
2. Illicit Child, "Hiphop"
3. Georgia Anne Muldrow, "Mr. President"
4. Maryetta Moore, "Head Of My Soul"
5. Jimetta Rose, "Divinely Free" (feat. Dudley Perkins)
6. Black Milk & Big Pooh, "2 MC"
7. Darryl "D-Moe" Moore, "Sundaze"
8. Stacy Epps, "Motivation"
9. Jimetta Rose, "My Life"
10. Ms. Dezy, "80's Freestyle Skit"
11. Ms. Dezy, "Dearest Daddy"
12. Rickie BB, "Near & Far"
13. Ms. One, "Turiya's Smile"
14. Illicit Child, "Far Behind"
15. Mortonette Stephens, "Magic Walk"
16. Darryl "D-Moe" Moore, "Long Gone"
17. Eagle Nebula, "Funny (Hiphop)"
18. Darryl "D-Moe" Moore, "Drunken" (feat. Dudley Perkins)
19. Maryetta Moore, "Million Man"
20. Sopretti, "Try Your Best"
21. Georgia Anne Muldrow, "To Dance"