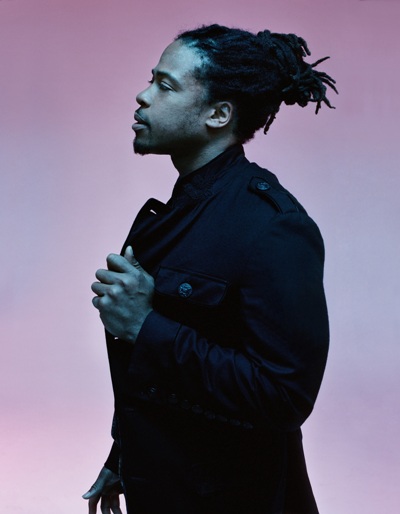 This has been a tumultuous year for Zion I. In January, just as the group's beloved Oakland was reeling from the murder of Oscar Grant by a BART police officer, which resulted in several protests and a highly publicized riot, Zumbi and Amp Live dropped their fourth album. The Take Over has both shocked and excited fans; its buoyant mix of electro jams, hyphy tracks and West Coast slanguage marks a long journey from the soulful beats 'n' bass of their acclaimed 2000 debut, Mind over Matter.
In part one of my interview with Zumbi, we discussed Oakland's current problems, his new group the Burnerz, and their recorded response to the Grant shooting, "Cops Hate Kidz." For this installment, we delve into the response to The Take Over, which has drawn surprisingly mixed reviews from print and online critics. (It currently has a rank of 58 out of 100 on Metacritic.com, an entertainment reviews aggregator, for "mixed or average reviews.") "It's going to have to grow on them," says Zumbi of the album. "For us, for Zion I, we've gotta keep it creative, we've gotta keep it pushin'. We don't want to regurgitate what we've done before and follow a formula."
Unfortunately, the drama didn't stop after our phone interview ended. That night, during Zion I's concert at Berbati's Pan in Portland, Ore., the nightclub cut off the group's sound in the middle of their set. "I've got to take time out to apologize to all our fans in Portland who witnessed us getting our set cut off by the venue (Berbati's)," wrote Zumbi on his MySpace page, where you can read more about the situation.
In spite of it all, 2009 looks to be a productive year for Zion I Crew. In addition to the album, they've released several mixtapes, including the 420 Mixtape with International Turntable Federation champ Vin Roc. Amp Live is working on a compilation for Om Records, and Zumbi has the Burnerz. "Give us space to make music," says Zumbi. "Let us make art."
Plug One: I want to talk with you about your new album. Personally, I like it a lot. I feel like you've re-invented your sound. But I've read different reviews of it, and it seems as if people are struggling with the direction that you've taken your music. Can you speak on that?
Zumbi: It's interesting, man. I've noticed that, too. Initially, when the album first dropped I was, like, wow, people don't like the record. Generally, we do very well with the critics. But since the record has been out for two months, almost three months, and now we're finally hitting the road and touring, I'm seeing that the shows have been packed and people know the words to the songs.
I don't know…I feel like the Internet gives people a lot of space to be highly opinionated. With the way blogs are, it's like one person and there's not really an editor, and [that person does] whatever they want.
So I'm not really sure, man. Maybe people just weren't feeling the sound at first and it needed to grow on them. Because I remember when our first album, Mind over Matter came out everybody was trippin', like, "Oh my god, they're doing drum and bass! This is not cool. This isn't hip hop."
Plug One: Really? Because you guys started doing drum and bass before that album came out.
Zumbi: The first single we dropped, "Inner Light," people didn't get it. They were, like, "Oh, this is wack." I remember directly the feedback from our radio and promo people was, like, "This is not cool, we don't get it, blahzay blah." But six months later, all of a sudden, all of these eccentric DJs are starting to play it, and then it actually becomes the hallmark of the album – that it was experimental. And then people were feeling it.
So that's how I feel about this new record. People are going to be fans of it, it's going to have to grow on them, or it's going to have to get to the people that enjoy it. Our old school fans, I feel like they're still with it, because they're still coming to the shows.
I'm just baffled by a lot of the write-ups because, at one point, the Source is giving us four mics [for The Take Over]; but then, I'm reading stuff online where people are, like, "Oh, they're trying real hard to be eccentric. They're trying to be different." Now I'm looking back and I'm, like, wow, you guys obviously have not followed our career, because we started out on a different note, and we're just continuing the cycle of how we make music. Every album we make is a different experience with how it sounds and how it feels.
Plug One: I would agree except to say this album was much more produced, while the beats on your past albums weren't as complex. There are more sounds in Amp Live's productions on this album than I've heard in your previous albums.
Zumbi: Huh. Well, you know, I think we're growing as artists. That's the same thing they said when we went from Mind over Matter to Deep Water Slang [because] we started using live instruments. And that was a big thing. True & Livin' took a step back; that was a more retro, boom bap album. And on Heroes in the City of Dope they said, "Oh, you're going hyphy and back to the electronic. It sounds like hyphy music." So everybody thought our next album would be hyphy.
Then, on this record, it's expounding out into a futuristic, uptempo electro thing. I know [Amp Live] learned a lot working on the Radiohead remixes and doing a lot of rock remixes. So I know that influence is definitely on this record as well.
So it's just something new. For us, for Zion I, we've gotta keep it creative, we've gotta keep it pushin'. We don't want to regurgitate what we've done before and follow a formula.
Plug One: Do you think there's a schism between the way East Coast fans hear your music and the way West Coast fans hear you? You guys are so deeply rooted in the Bay Area and a lot of your music reflects Bay Area trends. Have you seen that separation, or am I just imagining it?
Zumbi: I'm not sure, man. That's a very good question. Generally, we've done very well on the East Coast for a West Coast group. But with Heroes in the City of Dope, I noticed a marked decrease in East Coast activity for us, because that album was very West Coast.
On The Take Over, I'm not sure how West Coast it is. I feel like it's a national kind of sound, like a universal sound of hip hop. We'll have to go on tour. I get my best judgment, my sense of whether people are feeling the music, when we're on tour, to see the crowds and see their reactions to the songs in person.
Like I said, the online thing, I feel like, man, it's a blessing and a curse. On one level it gives people a lot of exposure, and people get to hear a lot of music for free. But on the other side it's unlimited opinions. And opinions are, like, forgive me for saying it, assholes. Everybody has one. I feel like a lot of people are able to hide behind these names, and they're totally unaccountable because nobody knows who their [real] names are. Then they can just post whatever they want, and they can talk shit, they can big it up, they can say "It kinda sucks but I like this one song." They can do anything they want. It creates a democracy kind of thing, so…
I was real sensitive to it because this is the first time that the online opinions have [really made a difference]. There's still magazines, of course, but I feel like online is really the motor behind sales. I read a lot of stuff, then I started reading other people's stuff, commentaries and reviews, and I was, like, in light of what everybody else gets, [our reviews] are not that bad.
But relative to what's going on online, I just see that stuff as a general trend. Usually it'll be The Source, Vibe, URB, Vapors, you know, all of these different spots, and you know who the writer is. Now it's, like, those guys are joined by 2000 other people.
It is what it is. We've just gotta stay focused. Just keep making music that inspires the youth, and stick by it, because that's what we've always done.
Plug One: There are a few songs on the album where you refer to how people see you as this positive guy, and they see you as this hippie dude. Can you speak on the perceptions people have of Zion I? How true are those perceptions?
Zumbi: I think our music is who we are, from moment to moment. Every album is like a chapter in this grand book. Whenever that book ends, I'm not sure. I think every album speaks to who we are at that moment.
I think the thing I was talking about when I say "They try to call us yoga/A couple of years we're set to take the thing over," is that we're evolving as people. Give us space to make music. Let us make art, because that's essentially we're doing. We're not the guys who just make club bangers. We're not the guys who just make songs for headphones. We're making stuff for the dance floor. We're making stuff to reflect on. We're making stuff to make you feel good when you wake up in the morning. We're making stuff to make you feel inspired to fight against the system. We're really working to be universal in what we do.
I feel like some of those generalizations are true. But it's not the totality of who we are. And I just don't – I can't allow myself to be limited and boxed in as an artist. I feel like it spells doom when somebody can just be, like, "You're going to do this and this, so I'm not interested in you anymore." I'm not trying to allow that to happen. I want to have that free space to break out and do something different.
I feel like the Burnerz' "Cops Hate Kidz" is a different take on what I can do, or how I can come off on the mic. Zion I is definitely more groovy and feel-good, and the Burnerz is expanding who we are as artists, and breaking through convention.
Plug One: Is the Burnerz a new group?
Zumbi: Yes, it's myself and the Are. It's a new project. It hasn't come out yet, but "Cops Hate Kidz" is the first song we've released. The album is basically done. We're just waiting for the right time to start the process of leaking stuff and building towards a record.
It's a super-raw hip hop album. The Are does a lot of different type of stuff that I would equate to Jay Dee or Pete Rock's style like chopped soul samples and rugged beats. And I'm just going for mine on the mic – straightforward and in your face, not too high-conceptual, just basic-level hip hop. But it's still soulful. It's a hopeful album.
Plug One: Has the project been picked up by a label?
Zumbi: We're trying to figure out what we're going to do. We might go strictly online; we might sign it to a label. We're trying to figure it out because the music industry is changing so fast. At this point, I'm wondering how long CDs are going to be relevant.
Previous: Zumbi: "I don't want to see a bunch of Lovelle Mixons in Oakland"

Discography:
Mind over Matter (2000)
Deep Water Slang v 2.0 (2003)
True & Livin' (2005)
Heroes in the City of Dope (w/The Grouch) (2006)
The TakeOver (2009)
www.zionicrew.com
www.myspace.com/babazumbihere
www.facebook.com/people/zionicrew
Zumbi photo by Peter Graham.