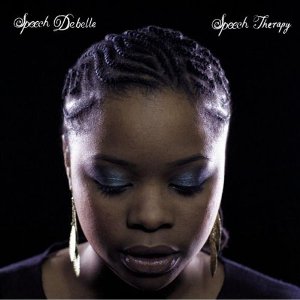 On Monday, Big Dada released UK verbalist Speech Debelle's debut Speech Therapy to positive reviews. However, physical copies of the album — produced by Wayne Lotek of Lotek Hi-Fi — won't see a U.S. release date until later this summer. (The iTunes version is tentatively scheduled for June 9.) If you're in America, try to restrain yourself from downloading a pirated version and check out the press description below.
There's a reason that Speech Debelle's debut album is called "Speech Therapy" and that's because she speaks straight from the heart, with complete intimacy, as if only addressing one person. As if she expects the record never to be heard.

Perhaps in some way, that's not an unreasonable assumption. The 25 year old South Londoner has been through the mill both before and since she started working on this set of recordings. The oldest song on here is called "Finish This Album". It was the tune she first played when she visited Big Dada almost five years ago. Its theme is that she has to hold it together, look after herself and try to get the record done, as if the act of finishing will somehow liberate her from the problems in her life. It's both intimate and epic, moving back and forth between the personal and political, the mundane and the spiritual. It's a journey acoss London and a journey across her life thus far. Speech is both young and old beyond her years. At the age of twenty five her fragile voice can make her sound like a teenager, but she's packed in enough experience to last most people forever.

But now, finally, everything has come together and the record is here. "Speech Therapy" is a statement of intent. Speech doesn't need to shout to make that clear. This is a record which sounds like no hip hop record has sounded before. Its sonic palette is informed by the intimacy of her thought and the fragility of her voice. She always knew what she was trying to do but it took her time to find the tools to make what she heard in her head.
Here's the track listing:
1. "Searching"
2. "The Key"
3. "Better Days"
4. "Spinnin'"
5. "Go Then, Bye"
6. "Daddy's Little Girl"
7. "Bad Boy"
8. "Wheels in Motion"
9. "Live & Learn"
10. "Working Weak"
11. "Buddy Love"
12. "Finish This Album"
13. "Speech Therapy"
Here's the video for "The Key":