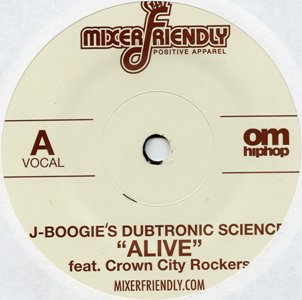 J-Boogie's Dubtronic Science
Alive (OM Hip Hop, no catalog number)
I haven't posted a 12-inch review (or any review, for that matter) in quite some time. But a package of goodies from SF producer J-Boogie prompted me to end the slump. The SF producer just released a 7-inch from his 2008 album Soul Vibrations called "Alive." It features hip hop band Crown City Rockers (with Jrod Indigo on backing vocals), and it's pretty dope if you're into positive West Coast hip hop. The Rockers' Raashan Ahmad drops a few verses about appreciating life — "I'm I'm walkin' tomorrow then God bless me" — but I found myself drawn to the instrumental version, which emphasizes the groove-oriented vibe of the song while throwing in some dub-like echoes of Ahmad's performance. Overall, a nice release.