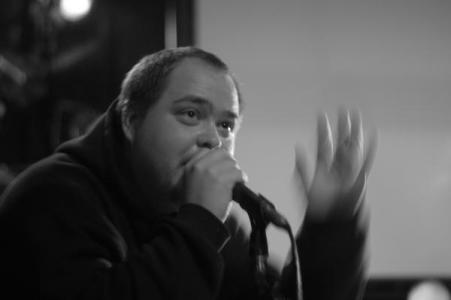 Even though their album So Be It comes out today, Qwel (pictured above) & Maker have already begun a national tour. Check below for details.
8/28: Reggie's, Chicago, IL (1)
8/29: The Bunk Space, Cincinnati, OH
8/30: Emerald Lounge, Ashville, NC
9/01: 529, Atlanta, GA
9/03: Shantytown Pub, Jacksonville, FL
9/05: Alligator Alley, Ft. Lauderdale, FL
9/06: Propaganda, Lake Worth, FL
9/10: The Walnut Room, Denver, CO
9/11: Eloy's, Fort Collins, CO
9/13: Pitbulls Sports Bar, Colorado Springs, CO
9/15: Badlander, Missoula, MT
9/16: Nectar Lounge, Seattle, WA
9/17: Calabash, Portland, OR
9/18: Gusto Bar, Boise, ID
9/20: Voodoo Lounge, San Jose, CA
9/21: Elbo Room, San Francisco, CA (2)
9/22: The Terrace, Pasadena, CA (3)
9/23: The Farm, Las Vegas, NV
9/24: Boar Cross'n, San Diego, CA
9/25: Moonlight Lounge, Albuquerque, NM
9/26: Limelight, San Antonio, TX
(1) w/Capital D, Mass Hysteria
(2) w/Denizen Kane
(3) w/Offwhyte
Photo by Ducky.