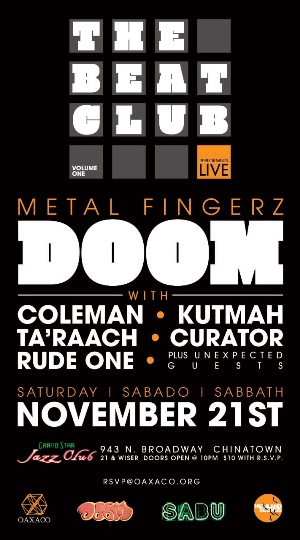 The Daily Swarm posted two random message board comments about DOOM's L.A. concert last Saturday, along with a poorly-lit YouTube video:
It's hard to see here but you can catch glimpses of him. It was obvious that he was an imposter since he never once laid his hand on a microphone and just played his new tracks on a laptop. I get what he's goin for here…he's a VILLAIN, but he's ripping off his fans! I was super pissed along with everybody else who came to see him.
ConsequenceofSound.net followed up with a post:
According to DOOM's label, Stones Throw, which does not handle the rapper's booking, it was "obvious that he wasn't going to show up at a venue that fits only 200 people when his performance fee requires venues about 10 times that size." That said, they would neither confirm nor deny if it was indeed an imposter.
I've had the pleasure of seeing the real DOOM twice. The first time was back in 2000 at the CMJ Music Festival, when Megalon punched a drunk and disorderly DOOM on stage (which MF Grimm later referenced in "Book of Daniel"). Good times. The second was at SXSW in 2004, right before he dropped his mammoth Madvillain project. It was no-frills entertainment, with DOOM cuing up a track, spitting out laser rhymes, and then cutting to the next song. That was a long time ago, before DOOM flipped off his fans and turned into a hip hop version of the Residents (minus the all-important disclaimer that anyone could be wearing the mask).
DOOM has pulled his "doombot" stunt so many times it's hard to care anymore. After breaking into the Billboard top 40 with his last album, Born Like This, it's clear that it pays to impersonate an all-too-real "supervillain" who seduces and then breaks his fans' hearts. Regardless of his antics, touring rap artists have convinced promoters that, yes, they know how to put on a good show and, no, a phalanx of thugs won't tear up the club and shoot somebody. His no-shows don't change that.
Rap promotion is one of the dirtiest games in the business, and while I don't know if Oaxaco or the undercard DJs are necessarily to blame (other promoters have cried foul afterwards), it's clear that no one should book DOOM without a guaranteed contract; and fans shouldn't attend any advertised DOOM shows unless there's clear proof of such contract.
However, it seems like DOOM shows up if one of his collaborators are around. He made a rare appearance with Madlib and the Stones Throw crew at Arthur Verocai's concert last March. He was slated for a Madvillain reunion show with Madlib at the We the People Festival this month before it was canceled; it's reportedly being rescheduled for early next year. An upcoming concert with Mos Def in NYC is probably a good bet, too.