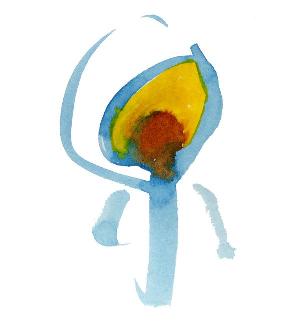 In the midst of my Hamlet-like soliloquy I neglected to note that Jun "Nujabes" Seba died last month from injuries related to a car accident.
The Japanese producer made over a decade's worth of downtempo and instrumental hip-hop. My familiarity with Nujabes is limited to his work in the early 00s, when he created several remixes for Five Deez, and collaborated with Japanese emigre Shing02 on a series of 12-inch singles named "Luv(sic)." But he's best known in the States for creating the opening theme to the Adult Swim cult classic Samurai Champloo.
Here's what Shing02 said on his website. His post has drawn over 2000 comments, proof that Nujabes enjoyed an extensive following among the world's beat-heads.
We deeply regret the loss of a unique talent and a close friend. Through his soulful music, Nujabes has touched so many people around the world, even beyond his dreams. He was a mysterious character to most as he avoided the public limelight, rarely conducted interviews, so only a few got to know the man behind the signature production. Yet it continued to amaze me how young listeners of all backgrounds learned of his enigmatic name, and expressed support for his music.
I briefly traded emails with Nujabes in late 2002 for an URB Next 100 mention. (Or was it one of his representatives? I can't remember.) We weren't able to work it out in time for my deadline. So here's what I wrote:
Who is Nujabes? To Westerners, he's something of a mystery, a name that occasionally appears as a producer for Apani B. Fly Emcee ("Strive"), Substantial ("Home Sweet Home"), and Shingo2 ("Luv (sic)"). Japanese heads know he's the man behind Hyde Out Productions, a maker of loop-based beats with a whimsical, almost yearning quality to them. Thanks to his consistently high standards, Nujabes is a secret weapon for wide-awake DJs.
Short and sweet.