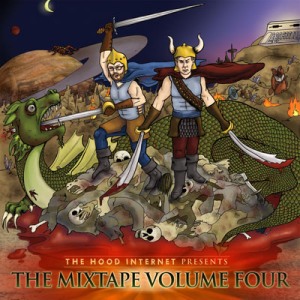 From now on, I'll re-post my articles from other outlets on Plug One. These will be stories that are relevant to the site and achieve a certain level of quality (in my opinion).
This piece on the Hood Internet was published in the March 24 issue of the San Francisco Bay Guardian.
———————————-
Endless hookup
Away from the turntable and into the pop skips-and-jumps of the Hood Internet
Where are the turntablist masters of yore? They've gone missing, replaced by the likes of the Hood Internet.
It's true. The art of the hip-hop mix, once protected by the Skratch Piklz and the X-Men (a.k.a. X-ecutioners) and the Beat Junkies and Triple Threat, has returned to the province of the sound editors, just like in the early 1980s. The problem was the turntable itself. A painful lesson of the ugly aughts was to never trust technology. Hardware emerges, changes, and is destroyed according to consumerist tastes. The alchemical idea may be subject to manipulation by the likes of Steve Jobs, Rupert Murdoch, and Eric Schmidt, but it is eternal in its adaptability to any mechanical form.
So while scratch DJs take to message boards and cry over Panasonic allegedly discontinuing its Technics 1200 line (which turned out be a false rumor), rockists and electronic heads open their laptops, launch Serato and Reason software, and get to mixing. It's not like those turntable masters aren't missed, though. While they spun and cut soul, funk, and hip-hop with finely nuanced techniques, like 16th century woodblock cutters, the new editors and mashup artists skip stones across genres, leaving small ripples of pop delight that quickly dissipate.
It's a different aesthetic, that's for sure. The Hood Internet consists of Chicago-based musicians Aaron Brink and Steve Reidell. Both moved there after finishing college — Brink at the University of Michigan and Reidell at University of Wisconsin, Madison. Initially they formed May or May Not, a "noisy pop band," as Reidell called it, and made beats on the side for rappers "you would have never have heard of" until producers like Girl Talk and Them Jeans inspired them to create the Hood Internet Web site in 2007. Using Acid Pro and Ableton Live, they flooded the Web with smart, imaginative mashups of the Shins vs. Crime Mob, and Jim Jones vs. Daft Punk. It was a hobby: Reidell was an art director for Smart Bar, and the site's array of cheeky collages is testament to his superior design skills. Brink is a clinical psychologist. They've performed around town and occasionally landed spot gigs on the weekend, but this spring marks their first extended national tour.
"I left my job earlier this year to be able to focus on the Hood Internet," Reidell says. He's calling from a video set in Chicago, and the resulting clip will be for "Chicago 3016," a new single the Hood Internet produced with local MC Kid Static. It's a reference to Chicago's failed bid for the 2016 Summer Olympics. "There's a great hip-hop scene here right now, from Kid Static to the Cool Kids and Kidz in the Hall. Freddie Gibbs, he's from Gary, Indiana, but he's basically Chicago since we're such close neighbors."
Unless they're showing some hometown love — they recently mashed together buzzing Chi-town newcomers Bin Laden Blowin' Up's "Chi Don't Dance" with Broken Bells' "Citizen" — the Hood Internet tends to use radio hits, flipping recognizable raps over rock and dance tracks. Hence, The Hood Internet Mixtape Vol. 4 includes "Bring the Tabloid Sores," where Chuck D.'s stentorian boom from "Bring the Noise" rides over Nosaj Thing's eerie electronic remix of Health's "Tabloid Sores." Less brilliantly, it also includes "Swaggin' Out," which pairs Soulja Boy's muttering boast from "Turn My Swag On" with Joe Jackson's smooth jazz-pop "Steppin' Out." "There's a handful of irony in what we do. The mashup itself is an ironic form of music," Reidell says. "We live in an age where anyone can do it if you've got Garageband and download some a cappellas."
The Hood Internet operates in a pop context. It isn't simply plundering black music for source material and reshaping it for white hipsters. Collected into the ongoing Hood Internet Mixtape series, these sounds represent how much of the audience, black and white, consumes music today. To the duo's credit, their approach is more innovative than the hordes of mixtape DJs that artlessly smack Lil Wayne "exclusives" together with little care for flow or context, or even the old-school jocks who scratch and blend like it was still the '90s. But these tracks also demonstrate how hip-hop has been reduced by much of its audience into a series of sugary sensations — again, the skipping stones analogy. It's music for partying, getting laid, and working out at the gym, not for intellectual exploration. You can't blame the Hood Internet's clever and innovative response for the current pop miasma, though.
"In recent months I've digested the new Freeway & Jake One album, Pill's 4180 mixtape and Freddie Gibbs' mixtapes as intensely as the CFCF and Caribou album," Reidell answers when asked if he takes hip-hop seriously. "That said, a lot of pop music — and a lot of hip-hop falls into that being that it's popular — is disposable. It's not because it's hip-hop, it's because a lot of pop music is disposable. The Hood Internet mixes a lot of that stuff. But while we might mix Gucci Mane one day, we'll mix a really thoughtful Anti-Pop Consortium track the next day.
"I think there's some value to it because it's introducing people to things they might not otherwise have heard," he continues. "It's time-stamped to a certain degree, and it's for partying. But there's value to that, too. People like to have a good time."