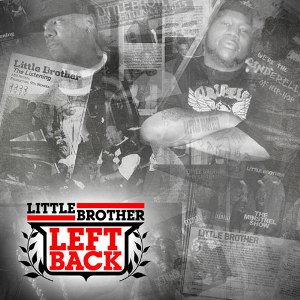 Next up on Hip-Hop Smackdown: 9th Wonder vs. Phonte Coleman.
Isn't it interesting when rappers start beefing with other rappers, catching weapons/drugs/robbery charges, and dating R&B singers just months before their albums are released? It seems like this is the indie-rap version.
The controversy stems from "Star," an old Little Brother track recorded while 9th Wonder was still in the group. Remaining members Phonte and Big Pooh planned to package it on the iTunes version of the group's upcoming album, Leftback, which drops April 20. According to Phonte, 9th Wonder's management team blocked LB's Hall of Justus imprint and its distributor, Traffic Entertainment Group from selling the track. So Phonte leaked "Star" via Twitter.
Aiight folks, backstory on Star:

This was recorded back in '05-06 at Young Guru's crib sometime after the release of Minstrel Show.

This was intended for Leftback as an iTunes bonus track but we just got word today that @9thwondermusic doesn't want us to use it for whatever reason, and that's fine.

In any event, I'm not gonna let anything or anybody stop me from getting music to my fans. Fuck that.

Enjoy. And as always, thank you for listening
When 2dopeboyz.okayplayer.com posted the track and the explanation, the following appeared on 9th Wonder's Twitter page:
@NexPerSanus let people talk bro….only if they knew the REAL story.. about 22 hours ago via web in reply to NexPerSanus

Well, tell your side of it or shut the fuck up. RT @9thWonderMusic: let people talk bro….only if they knew the REAL story.. about 20 hours ago via UberTwitter

@phontigallo you are NOT a tough guy…….none of us is…so KILL that noise….. about 20 hours ago via web in reply to phontigallo

@phontigallo and niggas aint shuttin up about 20 hours ago via web in reply to phontigallo
Then the following appeared on Phonte's Twitter page:
@bigdho "The industry" didn't destroy shit. Each of us just eventually became the people we were destined to be, @9thwondermusic included. about 19 hours ago via web in reply to bigdho

I'll be back in a minute to lay this LB/@9thwondermusic shit to rest. In the meantime tho, I'm ROLLIN @ some of y'alls responses…..lol about 19 hours ago via web

@chowbelle I'd never do no shit like this for publicity. This aint about Tigallo and 9th. This is about Phonte Coleman and Patrick Douthit. about 15 hours ago via web in reply to chowbelle
Phonte then posted a 13-minute webcam video to Vimeo.com. I am not posting it here, but you can watch it at 2dopeboyz.okayplayer.com.
A brief summary of the video: Phonte claims he and Pooh requested a sit-down with 9th in early 2007. 9th refused to meet with them, responding that wanted to talk over the phone. Phonte believes this wasn't the manly thing to do and adds that 9th Wonder is "passive-aggressive," among other choice statements. He challenges 9th to either explain to the public what really went down, agree to a face-to-face healing session with him and Pooh regarding Little Brother, or never speak publicly about the breakup again.
From 9th's page:
Twitterfolk…I have maintained silence on the matter for LONG time..for this reason. I apologize to yall for steppin outta character… about 19 hours ago via web

Please don't feed into this madness yall…real talk….good music will still be made by all of us….. about 19 hours ago via web

A LOT of things have been said about me in the media for quite sometime, thats the game….so yall don't feed into our back and forth about 19 hours ago via web

No matter what is said about me from now on, no sweat…Just support LB, 9th Wonder, all of us who make good music…. about 19 hours ago via web
Since 9th Wonder left Little Brother, he has refused to talk about the group, good or bad — at least until now. Phonte and Big Pooh have mostly done the same. However, it was clear that the split wasn't amicable.
I suspect that 9th Wonder stopped touring with Little Brother in 2005 because he realized he could make more money producing album cuts for Jay-Z, Destiny's Child, Mary J. Blige, et cetera. Acclaimed collaborations with Jean Grae, Buckshot and others confirmed he was a significant producer and artist in his own right. However, fans wondered why 9th wasn't at the LB shows, and his lack of promotion for The Minstrel Show led to tensions within the group, particularly since the album didn't sell.
Again, all speculation.
Artists are human, too. Sometimes close friends don't get along anymore, grow distant from one another. Bonds fray and break, leading to dissension, arguments, and fights. Some people hate to see their favorite acts fall apart. I guess they prefer a quiet break up, and a gentle disappearance into memory, without exposing any dirty laundry. Personally, I like more information, not less. It helps me appreciate what they were able to achieve when they were together.
The cover of Little Brother's Leftback features clippings and publicity photos from its career. However, 9th Wonder has been airbrushed out of all the material. What's up with that?