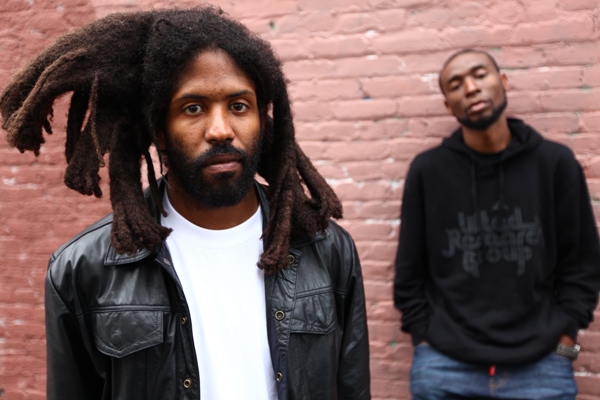 Two weeks ago, Murs and I spoke for a half hour for Rhapsody. It was part of a promotional push for his new album with 9th Wonder, Fornever. I posted the interview on Tuesday, April 13, the same day that Fornever was released. However, Rhapsody limits its posts to 1000 words, so I didn't have space to include much of our conversation.
Below you'll find an extended transcript. Much of the material falls under "inside baseball," meaning that we discussed various subjects from an industry perspective. I love that kind of stuff, but you might not. Topics included his recent split with Warner Bros.; his annual Paid Dues Festival, which he organizes with Guerrilla Union; the recent controversy surrounding his comments on the lack of women at Guerrilla Union's Rock the Bells festival; and, of course, Fornever. In fact, we got too sidetracked — I only had a half-hour — and I didn't ask enough questions about his music.
I did some light editing to the transcript, but tried to limit my deletions to repetitive sentences, sentence fragments, et cetera. When I put a (?) in parentheses, it means that I wasn't sure what he was referring to. For example, when he mentioned he dated porn star Jenna Foxx, I added a (?) because I may have misheard her name. I also added some brackets to clarify subjects we talked about: When he says, "I told my rep," I added a bracket so it reads, "I told my [A&R] rep."
One thing I should point out: When Murs says he has been criticized for speaking about the lack of women at Rock the Bells, he's referring to a short YouTube video posted last September. In the clip, he tried to explain why there were no women on the bill, and some people claimed he demeaned female rap artists in the process. The video is still active on Okayplayer.com. Watch it for yourself and reach your own conclusions.
I've known Murs for close to a decade, so it was nice to catch up with him. One of these days I'll see what Paid Dues is all about.
Plug One: So what's happened with the Warner Bros. deal since your last solo album, Murs for President, was released?
Murs: Our relationship dissolved, and they were gracious enough to allow me to leave before my contract was up. It took about six months of me lobbying and asking very nicely to be let go. They made promises that they couldn't keep, and that they didn't feel comfortable keeping. I was cool with that, I respected their decision, but I also told them that I would like to go back and do what I was doing. I had a lot to learn from them, and they had a lot to learn from me. In the end, I ended up learning a lot, and they ended up not.
Plug One: Were you satisfied with the marketing campaign for Murs for President?
Murs: No, not at all. The people who worked on it did a really awesome job with what they were allotted. But a lot of the higher-ups didn't provide the funding or the green light to take it to the next level, which was the whole point of my signing to Warner Bros. I never expected anything from them that they didn't promise me, and when they stopped giving me what they said they would give me, then that's when I got frustrated. I never felt entitled or blamed my lack of success … sometimes you don't have a hit song, y'know? That's not the label's fault, but some people like to blame the label. But they didn't try to make the record as big as it could have been. They didn't put everything behind it.
Plug One: Just to be specific, what types promotion did they promise you?
Murs: I was told that we were going to radio, and they never went to radio with the record. I was told that I would have one big-budget video and a radio song, and well before the record was pressed and samples were cleared, they said, "Okay, we have one radio hit here. It could be this one, this one or this one. We'll give you one radio push. We believe one of these three records can do it." I was, like, cool, I don't care; just go with the one that you want. I had my opinion – we fought over that for a while – but at the end, as long as we go to radio and get a decent big-budget video and we push this, I don't care what we do. I don't care which song it is. I gave you 14 songs that I believe in, and that's why I picked these 14 because I believe in them. I'll perform any of them every day of the week if I have to. I'm willing to kiss ass, whatever. I'm willing to do whatever I can. And they weren't willing to go to radio. I had promises from the highest [executives] in the building. In the end, they wanted to go a different way. And the guy they put in charge – I'm not comfortable saying his name – the guy they put in charge of urban music…
I wasn't really an urban artist to begin with. I had a great marketing director who is more on the rock side. He's a marketing director for the Used. His name is Xavier Ramos. He's a great guy. But all of a sudden, I became an urban artist, and this new guy in charge of urban music said that I didn't have a hit record. I was, like, "Well, that's crazy, because everyone else before you got here agreed we've got some type of radio thing, and you say we don't." He was responsible for bringing in new change, so I don't blame him, either. But after that, I told my [A&R] rep, well, if I don't have nothing to talk about with anybody. If we're not going to radio, then there's no reason with me being here.
Plug One: Which songs were under consideration for radio?
Murs: I think "Everything," 'Time is Now" with Snoop Dogg, and "Lookin' Fly" with Will.i.am. And even "The Breakup Song," which Big Von [from Bay Area urban station 106.1 KMEL-FM] was spinning a lot and continues to support, had some consideration. So we had three or four songs, and everyone was arguing which one it should be. Like I said, I wasn't partial to either one.
We had single rights from Snoop Dogg and Will.i.am – and these are deals my manager and I cut. I didn't do "favors." There was nothing I could do for Snoop or Will. But I asked, and they did me favors and gave me single rights. So to have a single with the hottest artists … [Warner] did the same thing with Jay Rock's record, I think. He had something with Lil Wayne, and [Warner] didn't get behind that! I don't understand that.
Plug One: It's weird that they tried to market you as an urban artist. It seems like a lot of your success in recent years, and the reason why you got to Warner Bros., is because you were so big with the skaters and the alternative crowd.
Murs: Yeah, it was a mystery to me.
At the same time, there are a lot of changes going on at Warner Bros. I'll never say "fuck Warner Bros." or anything like that. It wasn't that type of situation. But when they split the company up into three different labels – Reprise, Sire and Warner – the guy that brought me into the company went this way, and Warner went this way, so Warner did not have the alternative acts anymore. That was the thing. My marketing director was with Warner, but my A&R [went to] Sire. Everything changed. I had an opportunity to go over to another part of the building, but I didn't want to leave, because we were so invested in [Warner] that I wanted to see it through.
So there's a whole story there. But in the end, it was an amicable split.
Plug One: It seems like you're almost lucky to have gotten your album out. They've signed so many underground rap artists over the years who never got any albums out, like Styles of Beyond and Reflection Eternal. [Shortly after this interview, Warner Bros. announced that Reflection Eternal's Revolutions Per Minute would be released on May 25.]
Murs: I think the difference between me and other rappers is that I make very sound business decisions, and my team is amazing. We were in there three or four times a week until we got a record out. There was no stopping us.
The people who got let go are like, me and E-40. We both put out records at the same time. [E-40 released The Ball Street Journal.] Dude, he put out 42 songs today [the two albums Revenue Retrievin' (Day Shift) and Revenue Retrievin' (Night Shift)], because that's how stifled he was being in that building for three or four years. And I have about ten albums coming out. People are, like, "Why are you trying?" I'm not trying. This is what I've been doing, and these people [at Warner] weren't feeling it.
So I think for artists, you get a record out if you have the right people surrounding you and you're determined. No fault to other artists, but [labels] will sell you a dream, like, "Wait, let's get this buzz going. Let's do this," because they want to do everything they can to spend as little money as possible. They want to make sure you're the next big thing before they go. They don't just want to look before they leap. Nowadays, they want to measure the face of the cliff and the angle. They want to know which way the wind is blowing before they jump. It's not the record labels of the 70s and the 80s anymore. There's not a lot of money to be wasted, I guess. They're trying to be more calculated, and I guess the technology has made them smarter, but music is about a feeling in your gut.
My team was amazing. We pressed them hard. …We pushed through, and 40 pushed through, but there are other people in there playing the game. It might pay off if you do exactly what they say.
That's the other thing: I'm too independent minded. I'm not going to do certain things, and that's not good when [labels] feel like they own an artist, and they need an artist to believe in their vision. I came to them because I have vision, and I have things to teach them, and I think they could have benefited from learning. I came in there with an A&R's salary   as well as being an artist. They [initially] recognized my business acumen, and they didn't take advantage of it.
Plug One: I was going to ask you about your A&R position at Warner Bros. I know you brought Supreeme in as well as other artists, I imagine. What happened to them?
Murs: Supreeme broke up. It was hard to get them off the label. Who knows if they're off the label to this day? I tried to take them with me, but they broke up anyway.
Unfortunately, I didn't get a chance to bring anyone else in…to be trapped there.
They're still bringing in great artists. They brought in Blu after me, and [we had talked about me helping to] bringing him in. I hear they just brought in Theophilus London, who's amazing. So I don't know what's going on. Hopefully all of the turmoil that was going on when I was there has subsided, and a lot of these artists will get a chance to come out, and we'll get a Reflection Eternal record and all these records. Jean Grae record – she's still over there, but I'm not sure.
Plug One: Earlier, you talked about how prolific you are as an artist. You've put out several albums over the past decade, and in the past two or three years you've put out retail albums [Murs for President] as well as internet albums [Sweet Lord]. Where does your work ethic come from, and how do you balance that with being an artist?
Murs: I have a punk rock record that's ready to go, I have an electro record that's ready to go, and I don't want Fornever to be overshadowed by these other records, or these other records to be overshadowed by Fornever. I want to get all this shit out, but I don't know how to do it. I mean, I know how to do it, but I'm trying to figure out the most efficient way to do it.
I think I get the drive from my mother and my grandfather. They're entrepreneurs that have been in the dry-cleaning business for fifty years. They work 12-hour, 18-hour days six days a week. They're crazy. And I'm possessed. I have a podcast that I make sure goes up weekly. A lot of rappers who have podcasts, they can't even do them every week. I make sure I have a podcast every Tuesday, every Wednesday or whatever. I make sure I design all my merch. I make sure the festival gets done. I pick each artist, and I call each artist. I set up the backstage areas. I micro-manage, and I have too many ideas and it's getting to the point where I don't know if it's beneficial to me, beneficial to my art. But I've built this career so far, and I've decided that, fuck it. I like performing with my band, I like the electro shit and if people can't catch on, that's fine. But I honestly feel that there's not another artist as prolific, as dynamic, and as diverse as I am.
The new website is mursworld.com. my new vision is to have my own festival, I tour enough, and I'm putting out enough different kind of music where if I'm all you want to listen to, I think you'll end up a great person for it. I have a weekly podcast. I have everything you need. I'm leaning towards the ICP [Insane Clown Posse]/Tech N9ne model, like, this can be your whole world. Fuck it – the other shit out there isn't nearly as good anyway, and it all sounds the same. So tune in. I'm just like a radio station: I'm going to keep putting out content, and try to develop a direct-to-fan relationship without all the BS hype and marketing and all that other nonsense.
Plug One: Paid Dues has evolved over the years. It started out as a festival with mostly "backpack" artists, and then you guys did a tour one year [in 2007]. Now, as you've said in one of your video logs, it's turned into a broader vision of independent music, as opposed to just "backpack" indie music.
Murs: That was the original goal. I like how people, critics and fans judge things. The original goal was to have Def Jux, Rhymesayers, Living Legends and Rap-A-Lot, like, all types of independent hip-hop. So Devin the Dude, UGK, and Geto Boys were the first three acts; then Company Flow, Aesop Rock, and Mr. Lif; Brother Ali, Atmosphere, and Eyedea & Abilities; then the Living Legends Crew, the Grouch and 3 Melancholy Gypsies. That was the original bill I built. We just didn't know how to get Rap-A-Lot involved.
So my goal has always been to encompass everything, and we hope to get E-40 and Bun B involved next year as we continue to grow. But there's definitely a backlash to it.
I also plan to make it a weekend thing and incorporate more graffiti and DJ'ing and B-boying, just to stop the division in hip-hop and promote more unity, like B-boying and Ice Cube or B-boying and E-40 in the same day, because, especially with iTunes, these kids have everything on their iPod. The next generation isn't as segregated as we were. They listen to Murs, Crookers, My Chemical Romance, Taking Back Sunday, and Mac Dre. It's just music to them. And they watch "America's Best Dance Crew." They're into limited edition Futura paintings.
For the people who are used to the old, segregated version of hip-hop, it makes them uncomfortable and they lash out. But Paid Dues has always been about the younger kids. It's about having somebody whose 12 years old have a place to come and be safe, or 14 years old come and enjoy quality music. And I've seen everybody on Paid Dues perform live, and they're no joke. They're dope, and they're good when they do it. And they love what they do.
Plug One: I think the one criticism of Paid Dues that has resounded over the years is that neither Paid Dues nor Rock the Bells have featured a lot of women in their line-ups. You've addressed it in the past; can you speak on that now?
Murs: I don't feel right. I got a lot of backlash [when I spoke on it last year]. I'm not a female rapper. All I can say is no comment.
But this year, we have Dessa from Doomtree, who's a female artist, and we have Hopie Spitshard, who is a female artist, and we have Angela Yee, who is a female radio personality. I don't know how much more PC I can be. That's all I can say about that. … I believe there needs to be a larger female presence, and I believe with Paid Dues I've done my part.
This year at SXSW I tried to check out a couple of female artists. I met with Invincible out of Detroit who has a great album out called ShapeShifters. So I'm well aware of the female movement. Psalm One is someone I've been trying to incorporate for years, and I owe her. Jean Grae has been on [the bill] in the past.
I don't know about Rock the Bells. I don't know what it's like to be a female MC. But I definitely hear what people are saying, and to me I've addressed it this year. And I'll continue to address it.
Plug One: It seems like a lot of the criticism that should be addressed at [Guerilla Union, the promoter that organizes Rock the Bells] is directed at you. But you guys are two different entities, right?
Murs: Yes, definitely. I have some influence over [Guerilla Union] because they're my friends and business partners. But they run the point on that. I was asked that question [about female MCs] at Rock the Bells [last year] and I do feel strongly about it.
I love hip-hop. I would love to have more balance. I'm a huge Jean Grae fan, I'm a huge Lauryn Hill fan. I felt the answer I gave was my perspective. I don't think it was wrong. I didn't say anything disrespectful and if people took it the wrong way, I'm very sorry.
I have input, but I have no control over Rock the Bells. All I can do is react and respond to the need, and I think I did that this year with Paid Dues. [The 2010 edition of Paid Dues took place on April 3.] It may not be the female MCs that you're used to or you wanted. But I think Dessa is dope. I've seen her out, and that's what my requirements were. I've seen her with P.O.S. Like I said, I watch everybody that I put on my show. So if I haven't had a chance to see you, that's probably another reason why you're not on Paid Dues.
I've seen Hopie Spitshard and I know about her work ethic. I'm a big fan of hers. And I've been on Angela Yee's show, and I know how active she is in the hip-hop community. So to have her be the MC of a MCs festival, I thought that said a lot, too. It's nothing that I want to be praised for. I just think it should happen so if there's a younger girl in the crowd, she's going to see Angela, Hopie and Dessa. I know Hopie has a new album out, and Dessa has a new album out, so if you want to support female MCs, they're there, and if you support them and they're able to book their own tours, then there's no reason they won't pop up on Rock the Bells.
I do bring people into Paid Dues to show them to Rock the Bells. If I have to start with being a feeder, I'll start it. Hopefully my business partners [at Guerilla Union] will say, "Hey that was a good set." Or, "Hey, Angela was a great host, maybe she can host Rock the Bells." Now she's in the door, now she can speak for female MCs. I'm not, according to Twitter, qualified to speak for them. But I brought someone who I think can. And that's all I can do.
So I don't think I owe anybody anything, and that's the last time I'm going to explain myself about the female MCs. From now on, there's no comment. I do not know your struggle, I do not know what it's like.
Plug One: Let's talk about your new album, Fornever. Can you get into that? This is the fourth album you've done with 9th Wonder.
Murs: Yeah, thank you for knowing that [I've released three albums with Ninth], too. You're the only person that cares.
Yeah, it's a great record. It's more West Coast than any record we've ever done. It was recorded in Inglewood, California. I got to bring through a lot of artists such as Kurupt, Suga Free, Verbs, and [Sick Jacken from] the Psycho Realm, people that mean something to me and mean something to my city. Finally, after three albums, I'm able to get [Ninth] on my home court and let my city influence him for once. We have a tremendous co-producer, E. Jones, who works with 9th Wonder. Also there's some live instrumentation, so everything's a little funkier, live, and musically full this time. And I had guests from my hometown fill in. [9th Wonder] said he wanted to make 3:16 on steroids, and I think that's what it is.
Plug One: There's one song on the album, "Vikki Veil," where you talk about dating a porn star. Is that a true story?
Murs: Oh, it's a true story a few times over, my friend. There are three that I've dated, and it's a merging of all three, and a couple of stripper stories. But I'm married now. That's my wife's least favorite song.
Plug One: Any names you can throw out?
Murs: Oh yeah, Roxy Reynolds, Jenna Foxx (?), and the other one I'll keep quiet because she doesn't work in the business anymore.
I wanted to do a song that's not glamorous. It's just very real-life. Even porn stars want to be loved and get married one day. That's what all women want, and don't ever think that's not what they want. But they want it on their terms. It's weird. It's more drama. So the married guys at home that envy me, or the guys at the airport that saw me eat Roxy Reynolds out, it's that song for them. I'm like, look, it's cute, it's fun, but it's just as much of a headache as your girlfriend or your wife. The moral of that story is that you're not missing out on anything.
Plug One: It seems that, whether you've made something specific about L.A., or are just simply doing your music, you've always repped L.A. as a broader vision than just gangsta rap.
Murs: I think Fornever is another step in that direction. It's a complete L.A. album to me, and I think I'm the most balanced L.A. artist there is. I've wanted to do an L.A. record my whole life, and I never thought it would end up being produced by 9th Wonder, but this album sounds like L.A. Except for the song "Asian Girl," which comes out of fucking nowhere. But other than that, it feels like an L.A. record. I've never called any of my records West Coast records, but I think this is a West Coast record. I think it's what people in New York love about the West Coast. It's universal because when you buy an OutKast record, you're not from the South, you might not like all Southern music, but OutKast represents what you love about the South. I think this record represents what people used to love about the West Coast. It's unapologetically West Coast, and it's unapologetically hip-hop at the same time, like very traditional backpack hip-hop samples and dope lyrics.
Photo by Estevan Oriol.