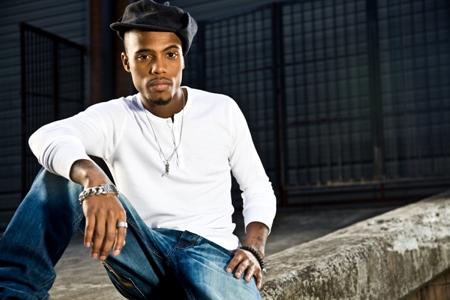 This piece on B.o.B was published in the April 28 issue of the San Francisco Bay Guardian.
————————————–
The residue
B.o.B and an era of hip-hop that's pop, pop, and more pop
"Drug boys steady shooting. The streets don't give a damn. They're filled with such pollution," sings B.o.B on "Kids," an interpolation of the coda from Vampire Weekend's self-titled indie-pop gem. "The kids don't stand a chance."
But does B.o.B stand a chance? The Adventures of Bobby Ray is pop, pop and more pop, embracing the current electro-pop-with-a-hip-hop-attitude zeitgeist with a smothering squeeze. If Kid Cudi took notes from Kanye's 808 and Heartbreak on his intermittently fascinating Man on the Moon: End of Day; then B.o.B seems to channel Lupe Fiasco's The Cool, with a dollop of Gym Class Heroes and Fall Out Boy thrown in.
B.o.B's hip-pop excursion flies right into a raging debate over presence in hip-hop music, and whether there's any left. The mainstream vanguard belongs to those willing to embrace rock and R&B clichés, whether it's Lil Wayne fake-strumming a guitar on "Prom Queen" or, more nobly, Phonte Coleman crooning on Foreign Exchange's "Daykeeper." The hardcore underground belongs to growlers who can spit "16 hot bars" for days over "hit" beats lifted like Just Blaze's "Exhibit C." (For the uninitiated: a "bar" is a stanza in a verse.) Each camp seems to disappear into its chosen musical backdrop, driving the beat with narratives and themes, yet rarely emerging with an MC's distinctly authoritative voice.
The recent death of Keith "Guru" Elam, who passed away on April 20 after years spent battling cancer-related illnesses, underscores the stakes. On his work with Gang Starr, Guru not only excelled at storytelling, but at delivering classic lines that burned in your memory. Everyone knows "DWYCK" and "Lemonade is a popular drink and it still is/I get more props and stunts than Bruce Willis." Or how about this one (my personal favorite) from "The ? Remains": "As the world revolves, wack crews lick my balls."
Peace to one of the best to ever do it. And to be fair, Lil Wayne, DOOM, Mos Def and a handful of others still deliver those prized "hip-hop quotables." As for B.o.B? This may seem like a heavy burden for a 21 year-old kid who just released his first official album after years spent hyping himself with mixtapes like The Future and Hi! My Name is B.o.B. Once a hip-hop artist makes a best-seller, he becomes fodder for cruelly dismissive rap addicts clogging up chat boards, snarky rock critics penning capsule reviews for magazine slicks, and old-head journalists that slum down the media mountain to judge the latest craze against their idealized B-boy childhood. Each side will argue noisily and violently whether The Adventures of Bobby Ray spells the death or rebirth of hip-hop.
The turning point is "Nothin' on You," a shaggy-dog ballad that reached the summit of the Billboard singles chart. B.o.B leaves the hook to co-writer Bruno Mars, whose production crew the Smeezingtons (Flo Rida's "Right Round," K'naan's "Wavin' Flag") aims to be the new-school version of the Neptunes. "Beautiful girls, all over the world/I could be chasin' but my time would be wasted/They got nothin' on you, baby," sings Mars in a creamily soft voice.
In conversation, B.o.B is a likeable guy that doesn't have much to say about the artistic process. Some musicians are erudite Questloves that can philosophize on any and every studio session, while others are Ghostface Killahs that just do it, and let the historians sort out the details. However, B.o.B acknowledges that The Adventures of Bobby Ray is a sharp departure from his early mixtape material.
"I treated the early mixtapes like albums, but I was always holding back. I was holding back the alternative side," he says, adding that rock bands like Coldplay are an influence. "I don't want to be in one genre, because doing that would be limiting me as an artist, if I was only being exposed to the pop crowd, or just to the urban crowd."
Growing up Bobby Ray Simmons in Decatur, Georgia, he was first discovered at 16 while performing at Club Crucial, a nightclub in Atlanta's rough Bankhead neighborhood. As he subsequently signed deals with producer Jim Jonsin (Cypress Hill's "Armada Latina") and his Rebel Rock imprint, and then T.I.'s Grand Hustle camp, B.o.B toyed with idioms. His breakthrough single, the regional hit "Haterz Everywhere," matched ATL bravado with a memorable hook. On The Future, he playfully riffed over a loop of Sam Cooke's "Only Sixteen." During appearances on the 2008 Rock the Bells tour, he interrupted his brief sets by bringing out a guitar and strumming an acoustic version of his marijuana ode "Cloud 9."
By B.o.B vs. Bobby Ray, he graduated to writing full-fledged pop songs, though none were as good as those found on The Adventures of Bobby Ray. Throughout his mixtapes, which were kind of a woodshedding process, B.o.B presented himself as an alien, a prodigal kid who doesn't quite fit in with the teacher's pets or the playground thugs. He frequently noted skipping high school to smoke weed and hang out on the streets. On "My Story," he rapped, "Rebellion is just a side effect. Homicidal? Maybe. Suicidal? Yes."
Today, B.o.B says, "It's not as dark as it was. There's still the residue there, the residue is on all my memories. It makes me who I am. It's the strikes and blows that carve me as a person." Finding success with a passion he nurtured since the third grade has undoubtedly helped. And career demands keep him out of trouble. "As I become more successful, it requires me to work more. I've got to be on my P's and Q's. I gotta go to bed earlier. I can't stay up as late as I used to. Sometimes I do party, but I'm like, alright, I gotta wake up in the morning."
B.o.B may have grown out of his depression, but the ADD-manic energy remains. On The Adventures of Bobby Ray, the mixtape hiss and "down South" hood raps have been buffed away, leaving charismatic emotion and arena-ready entreaties like "Ghost in the Machine," "Fame" and "Airplanes." A chorus line of high-profile guests, from Rivers Cuomo of Weezer and Hayley Williams of Paramore to Eminem and Lupe Fiasco, appear to ease the transition.
"Everyone listens to everything. Whatever's going on in the hip-hop community, the pop people can see, and vice versa," says B.o.B. When everything's mixed up and genre lines blur, he adds, "Change is inevitable."
Photo by Wuz Good.