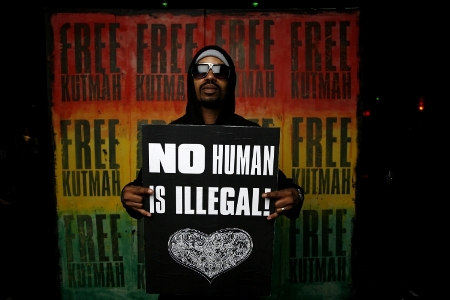 Last week I got a request from a publicist to post a few photos of the June 3 Free Kutmah benefit at the Echoplex in Los Angeles. I was assured that they hadn't been posted on the Internet yet.
Alas, Azul213 has posted a gallery of the images he took that night. They feature various L.A. musicians and tastemakers holding signs that read, "No Human Is Illegal!" and its Spanish equivalent, "¡Ningun Humano Es Illegal!"
However, I'm a good sport, and my sympathies lie with Kutmah who, it seems, will be deported in the next several weeks to his native UK. Hopefully he will be allowed back in the U.S. In the meantime, check out the aforementioned pics of Dam-Funk (above), Daedelus, Gaby Hernandez, and Peanut Butter Wolf. And, if you're so inclined, visit Azul213's gallery for more images.