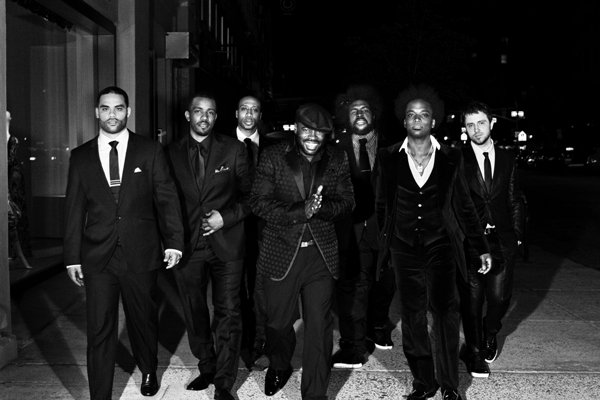 This essay on the Roots' How I Got Over was posted July 14 on Rhapsody.com's Music Stuff Place blog. I wrote it for my Rap Is Not Pop column.
Last week, I promised that I would abandon the concepts that have marked most of my Rap Is Not Pop entries and go deep on one album. This was my attempt. I didn't get to mention my reservations about How I Got Over, from its meandering arena rock tone (interesting that critics called out B.o.B for that, but not the Roots — I guess it's not what you do, but how you do it) to the way it ends, clumsily, with two tracks, "Web 20/20" and "Hustla," that didn't match the rest of the album's sound. But I've long since learned that it's pointless to try and cram every thought about every track into a single critique. Better to focus on a theme, just as I would any other type of article, and give an impression of what the album sounds like. That leaves plenty of other nooks and crannies for listeners to explore.
Having said that, the essay just turned out okay. I made some writing mistakes.
—————————
Rap Is Not Pop: The Roots' Lost Paradise
Since 1996's Illadelph Halflife, The Roots have explored social realism, portraying the mythical "streets" as a world of intractable crime, imminent dangers that require street smarts and split-second decisions, and blacks at risk of a high mortality rate — or, in scientific terms, a greater half-life. In some ways, Illadelph Halflife was a response to critics and fans who categorized the group as "jazz-rappers" after the brilliant 2004 1994 disc Do You Want More?!!!??! Much like Gang Starr, Digable Planets and other hip-hop acts saddled with the "acid jazz" tag, The Roots felt compelled to move in a more hardcore direction, albeit one that would continue to utilize their skills as excellent live musicians.
Illadelph Halflife also introduced another theme The Roots repeat to this day. Nineteen ninety-six was the year of De La Soul's Stakes Is High. The East Coast-West Coast conflict, the incursion of organized gangs into the music industry, and Diddy and Dr. Dre's commercialization of hardcore hip-hop all led rappers to portend that the music genre faced a virtual apocalypse. Now it seems silly that people actually believed authentic hip-hop culture would die just because G-funk and jiggy were so popular, but their concern felt very real back then, especially with the shooting deaths of Tupac Shakur and The Notorious B.I.G. on the horizon. Nearly 15 years later, and with the recent release of their ninth full-length album, How I Got Over, The Roots still sound the alarm.
The Roots aren't just a cracking live band or a lineup of revolving musicians anchored by drummer and producer ?uestlove and rapper and vocalist Black Thought. It's a sprawling collective. Philly emcee Dice Raw has been featured on every album, even though he isn't an official member, and Truck North, Peedi Crakk and P.O.R.N. have made several appearances. Roots alumni include rapper Malik B., pianist and producer Scott Storch, keyboardist Kamal Gray, neo-soul vocalists the Jazzyfatnastees, poet Ursula Rucker, underrated multi-instrumentalist and producer James Poyser, and Incubus guitarist Ben Kenney — and that's not counting frequent guests like Common and Mos Def.
"Walk alone, walk alone, I'm always walking alone, forever since the day I was born," sings Kirk Douglas on "Walk Alone" from How I Got Over. However, the song features Truck North, P.O.R.N., Dice Raw, and Black Thought ruminating on their solitude, with Black Thought claiming, "I walk alone like the lost boys of Sierra Leone." Its multitude of voices suggests that we may struggle as individuals, but we are never truly alone in spirit.
It's not the only contradiction on How I Got Over. The title itself is widely assumed to be a celebration of Barack Obama's 2008 presidential victory, but the music's downbeat tone is more indicative of the country's subsequent soul-searching amidst a deep recession, political divisions and foreign wars. "Corporate monopoly/ Weak world economy/ Stock market toppling/ Mad marijuana, Oxycotin, and Klonopin/ Everybody out of it," raps Black Thought on "Dear God 2.0," a remix of Monsters of Folk's "Dear God" (which itself seemed to revisit XTC's "Dear God"). "Why is the world ugly when you made it in your image?" If the Roots have gotten over, then How I Got Over focuses on the personal and political torment they strive to overcome.
With its soft, melancholy keyboards from Frank Walker and ?uestlove's strong yet understated drumming, How I Got Over may be The Roots' most live and analog album since 1999's Things Fall Apart. But while Things Fall Apart sounded defiant — a sonic representation of Okonkwo from Chinua Achebe's literary masterpiece Things Fall Apart — the world-weary How I Got Over is lost in reflections. ?uestlove has called it a meditation on impending middle age, of turning 40 and taking, as he told Vibe.com, "one hard look in the mirror." Left unspoken in the lyrics, yet mentioned enough in the group's earlier albums that they continue to loom over their work, are those opportunities that now seem lost to time and chance.
For many, the rap wars of 1996 changed everything. There's an entire generation of fans who firmly believe that the genre has been lost forever. Nothing can disabuse them of this notion, not even Drake's Thank Me Later or Nas & Damian Marley's Distant Relatives. They hear these recordings as lucky exceptions to mainstream rap strictures — or, as Black Thoughts rhymes on "Doin' It Again," "The unsung, under-appreciated, the one them underachievers had underestimated" — not as proof that there is a thriving hip-hop culture in spite of commercialism. Worse, it seems as if these fans may never return and are only too happy to relegate their love for hip-hop to youthful memories.
How I Got Over is melancholy, even tinged with tragedy. But it is not defeatist. The Roots invite newer emcees like Phonte Coleman and Blu to contribute, passing the torch to a younger generation. The album argues for hip-hop's continued relevance amidst changing mores, and proves that The Roots' vision of hip-hop as a form of unfettered creative exploration, not just regional hood niches, is still relevant. "I'm the definition of tragedy turned to triumph," raps Black Thought on "The Fire."
Or, as Douglas sings on the excellent title track, "Someone has to care."