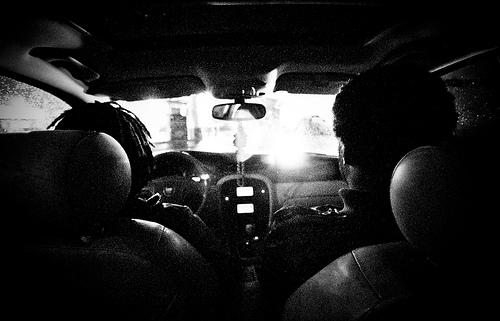 This essay on Shabazz Palaces was published in the July 14 issue of the San Francisco Bay Guardian.
Dipped in blackness
What lives in the mysterious Shabazz Palaces
"I'm a bright light on the dark side of town," raps "Palaceer Lazaro" on "Capital 5." One wonders how he got there. "Palaceer Lazaro" was once known as Ishmael "Butterfly" Butler, the leader of beloved 1990s stars Digable Planets and a 1993 Grammy winner for "Rebirth of Slick (cool like dat)." Digable Planets proudly celebrated Brooklyn, N.Y., as a nexus of black culture. Nearly two decades later, Butler has relocated to Seattle, where he heads a collective of dread artists called Shabazz Palaces.
Shabazz Palaces issued two EPs in 2009, a self-titled effort and Of Light. Both strike a consistently darker tone than the playfully cool acid-jazz notes of Digable Planets. Shabazz lobs grenades at Babylon, ridiculing "All these pop rappers in magazines looking cute/Talk frozen while they posing their white boy suit." On "Chuch" from Of Light, he opines, "Your rap's a corporation/A soft drink, nigga/What can y'all tell us." But Shabazz isn't a cranky old-schooler flying a tattered boom bap flag. His group mixes dread bass and dub, the sound of an impending (or in progress) apocalypse. Percussive shots ricochet about like burst shrapnel. On "Chuch," township voices loop over a bone-cracking dollop of feedback.
Shabazz Palaces has only granted a handful of interviews, including to The Stranger and Pitchfork.com. When I tried to contact the group via a publicist at Yoshi's San Francisco, where Shabazz Palaces performs July 16, I received a Facebook message from journalist and musician Larry Mizell Jr. He presented himself as the group's "sort of minister of information." What resulted was a silly exercise in double-speak. A sample:
SFBG: What does the name Shabazz Palaces mean?
Mizell Jr.: Band names are without fail the least interesting thing about that band. The words Shabazz and Palaces themselves are heavy with meaning — lost nation, houses of the royal — but the music is all. What that sparks in you is truly most important. I personally see/hear in it so much: time, antiquity, cosmos, kings, crowns, Adidas.
SFBG: Is Butler a Muslim? I notice he often uses Islam iconography in his art.
MJ: I've noticed that too, but I can't speak to one's spiritual beliefs. Where the listener is at with it matters most. Symbolism is powerful stuff, though. And it's used on us every day. Understanding that gives you power.
It's easy to view Shabazz Palaces as a meta-exercise: group conducts a non-media campaign = media tastemakers fall in unrequited puppy-love over group. And, of course, rappers are regularly accused of meta-commentary, including their constant referral to hip-hop as an actual person (or H.E.R.). However, Digable Planets excelled at turning Brooklyn's sights, sound, and esoteric philosophies into a kind of exotic wonderland with hip-hop as the framework for an unabashedly optimistic worldview. Their ad hoc approach sometimes got them in trouble: in 1994 the trio was erroneously accused of anti-Semitism for showing a Jewish shekel bill in the "9th Wonder (Blackitolism)" video. More damagingly, hardcore advocates dismissed Digable Planets as cutesy bohemian jazzbos, even though their experiential approach seemed as valid as any "keeping it real" mantra.
Perhaps that's why a chastened Butler can no longer view the street action from the safety of a coffee shop window. He still engages in culture jamming and spits "100 SPH" (100 styles per hour), but he now portrays himself as a willing participant in the violence. Like so many 1990s alt-rap idealists turned disillusioned realists, he has reformed himself with a macho perspective. Palaceer Lazaro can subvert gangsterism, but he must engage it. As he warns on "Kill White T": "If you ain't convinced, I can go and get my gun."
Shabazz Palaces offers rays of hope, too. The chimerical glow of "Blastit" and the dreamy melodica of "Sparkles" posit the group's soulfulness as innate qualities worth defending with blood. On "A Mass," Palaceer raps, "Sometimes I hate my life, wish I ain't love it so much."
Photo by Kyle Johnson.