Jennifer Lee, who goes by the name TOKiMONSTA ("toki" is Korean for rabbit) has managed to surf above a deluge of L.A. beat music. As she's the first to admit, she doesn't have a particularly unique "sound signature," certainly nothing as bracingly innovative as Flying Lotus's symphony of compression and space. Instead, she thrives on compositional ability. Her music not only qualifies as great "beats," but delightfully engrossing instrumental music.
Like most, I first heard of TOKiMONSTA through her association with Flying Lotus' all-star squad, Brainfeeder; then via her Cosmic Intoxication EP, which UK label Ramp Recordings released last April. (You can read a review of it here.) In July, Japanese label Art Union released her debut full-length, Midnight Menu. On both recordings, she uses night as a creative muse and, by extension, the feelings of introspection and mystery it often evokes. On Midnight Menu in particular, she utilizes several sounds, from the circa-07 8-bit stylings of "Cheese Smoothie" to the airy keyboard symphonies of "Simple Reminder," to create a story of hazy nocturnal restlessness.
I spoke with TOKiMONSTA in late July. In addition to the basics, I pursued an embarrassing line of questioning about her Asian identity, even though race is not really a factor in her work (though one could argue that some of her tracks, particularly on Midnight Menu, have Korean elements). In retrospect, I don't know why I did that.
Plug One: Are you originally from Japan?
TOKiMONSTA: No, I don't know why everyone thinks that. I was born in L.A. I'm actually Korean. I think the artist name gets people confused. But "toki" is a Korean word, too. Mostly, I'd say I'm American. I'm not super Asian-y. I'm pretty Americanized.
Plug One: Does it bother you that people think you're a Japanese immigrant, when you're actually from here?
TOKiMONSTA: It gets a little irritating to an extent. But I've been asked it so many times that I've gotten quite used to it. It's mostly people that just heard about me that don't really know that I'm from here and I'm not Japanese. But in every single interview I've ever done they always ask me about my cultural background. I'm very straightforward when I say I was born and raised in Los Angeles, California. I'm Korean-American because, technically, my parents are from Korea. It's only weird when press perpetuate [the notion that I'm Japanese] because they don't confirm with me. They don't ask me, and then they'll go and say that I'm from Tokyo, Japan.
Plug One: How did you evolve as an artist? Where did you get your start?
TOKiMONSTA: For me, it was mostly Flying Lotus. We were already friends because I went to Low End Theory a lot. I always hung around with those guys. But I mostly did hip-hop beat battles around L.A. I never played at Low End Theory because I was never able to. I didn't know how to play live yet. Then Flying Lotus put me on Brainfeeder. Through that, Mary Anne Hobbs, Gilles Peterson, and all the BBC Radio DJs started playing my music. Then I played live more. I've played at Low End Theory four or five times already.
I also worked with Shing02. He's a pretty big Japanese rapper. He was the first stepping stone into people becoming more aware of my music.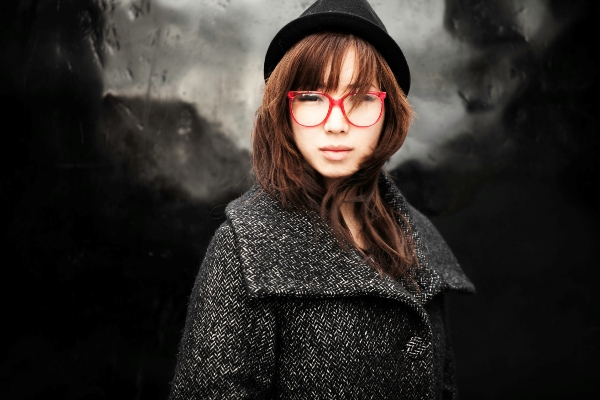 Plug One: When did you first start producing?
TOKiMONSTA: Oh my god, you're going to make me feel old. 2004? No, 2005. Five or six years. It's not that long ago if you compare it to some other people, but in essence a lot can happen in five or six years.
Plug One: How did you hook up with Shing02?
That happened through a clothing company called Foreign Family, and a mutual friend of ours [designer Yoshi Takahashi]. When I had my first release ever – it was a short EP – my friend wanted to put it out through his clothing label, and give it out as a free CD while [Foreign Family] was doing this art tour. My friend Yoshi is friends with Shing0, because they used to live together in the Bay together. So Yoshi suggested I get Shing0 for one of the tracks. I remember Shing0 from all the stuff he used to do with Anticon and Living Legends. We met up with Shing0, he got on ["Start Again"], and we became really good friends. We started several more projects, including two 12-inches ["Big City Lights" and "Start Again"]. On his most recent album, 400 [RVL], I contributed to the remixes of "Temple of Dreams" and "Whirlwind."
Plug One: What's the name of your debut EP?
TOKiMONSTA: It's called Bedtime Lullabies. It's not the same type of sound I'm making now. It's a little bit more warm and sample-based. I'm thinking of having it re-mastered and re-releasing it so people have more things to listen to.
That EP only got into a few people's hands. But I don't know if people would be as interested now, because my music has grown so different. It's hard to say.
Plug One: Back in 2006-2007, the J Dilla Donuts steez was really in vogue. Is Bedtime Lullabies along those lines?
TOKiMONSTA: I think what I do now is more along those lines. Before, my influences were DJ Shadow, Blockhead, or DJ Krush, on that trip-hop level. But even then, it was different, because when I put out this EP, it had a lot of IDM elements, too. It was break-y hip-hop with some IDM in it, and gritty-sounding. All the samples were taken off Handy Trax [small portable turntables], so it sounded low-fi.
Now, my drums have changed up a bit. So it's more, uh, Dilla-oriented, but it's more of that L.A. beat scene – re-appropriating that Dilla sound into the crazy noise we're making nowadays.
Plug One: There has been a deluge of beat records this year, so many that, as a listener, I've tuned out a lot of them. Cosmic Intoxication stood out to me because it has a throwback sound to it. It sounds like Ninja Tune in the late 90s.
TOKiMONSTA: I love Ninja Tune in the late 90s: Mr. Scruff, Bonobo, and stuff like that. Whenever I see those guys now, I'm always like, "Do you know how much I used to love your music?" At its peak, it had the biggest influence on me. I try to incorporate the same type of musicality I found in their music into my work. It's one of the things that make me a little bit different from the guys out here.
Plug One: We've noted that Cosmic Intoxication has a Ninja Tune steez to it, and Bedtime Lullabies has an IDM flavor to it. So what does Midnight Menu sound like?
To be honest … Bedtime Lullabies is way more late-90s Ninja Tune, but not as innovative. Cosmic Intoxication is the next step forward, so it's more IDM.
The new one is a step forward from Cosmic Intoxication. You get a taste of all the kinds of music that I'm capable of making. I have one track that's like an old house track, but more sample-based ["Death by Disco"]. I have one track that's really driving, electronic, and heavy ["Cheese Smoothie"]. There's another track where I'm sampling a Korean string instrument ["Sa Mo Jung"]. The last three tracks ["Madness," "Bready Soul," and "Lovely Soul"] have more traditional hip-hop beats.
Plug One: Does Midnight Menu have a particular theme?
TOKiMONSTA: I made every song on this album after midnight. I'm a big night owl. I don't even wake up before 1 or 2 p.m. because I go to sleep at 6 or 7 in the morning every day. So when you listen to it, it has this kind of haziness, the sound that you identify with a nighttime vibe. That's the "Midnight." The "Menu" part is what I was talking about, a lot of different styles. It starts off soulful, it gets into an electronic side, and then it fades into electronic-soulful hip-hop stuff towards the end. Each song is dynamic, so it makes it better to listen to than if all the tracks on the album sounded the same. You know, we come from a generation with a low attention span. Sometimes I just want to hear something different. I can't listen to the same shit all the time.
Plug One: Does your Korean identity matter to you as an artist?
TOKiMONSTA: It does to an extent. But I'm not a person that tends to be preachy. No one really questions it in L.A. because they're so used to it out here. It's international people who live outside California constantly asking me about it that have made me hyper-sensitive about my identity. I guess, on a global scale, Korea is this tiny country on a map. And [those people] don't see very many Asian immigrants in general. So with this album, especially because it's a Japanese release, I incorporated two songs that have traditional Korean music aspects to them. But I don't listen to that music on my own. So I ended up learning about my culture through making those songs.
There's one track I uploaded to my SoundCloud page, "Lucid Waking" that has these crazy Korean drums in it, and a lot of people are showing a lot of love for it. When I uploaded it, it's not as if I said, "I'm using all these Korean instruments." I'm just sliding it in there.
Plug One: Are you trying to develop a specific sound signature that's associated with you?
TOKiMONSTA: My sound signature is not the same as, say, Nosaj Thing, who has particular drums he uses a lot; or Flying Lotus, who has this type of compression, warmness, fullness, and heaviness. My sound signature comes from the musical aspect, if you listen to how I use my chord progressions and I put down my keys. My drums are always changing. I never keep them the same. I don't mix all of my songs the same way. It's less distinguishing, so if you hear one of my songs, you're not going to be a hundred percent sure it's me, as opposed to if you hear a Flying Lotus track, you know it's a Flying Lotus track. But I think the people who listen to this album will see the range of what I'm capable of, and they'll see a consistent musical nature.
I grew up with hip-hop, R&B, and even the neo-soul stuff. I like incorporating some of that into my music. So you'll hear a lot of chord progressions [similar to] neo-soul stuff from the 90s, but presented to you in a new way.
I don't know … it's difficult for me to look at myself in [an analytical] way. I just make the music that I make when I do it.
Plug One: You talked about getting a lot of recognition from the UK scene once Brainfeeder put you on. Can you talk about the experience of being on Brainfeeder? I remember when Flying Lotus announced Brainfeeder, but I didn't expect it to turn into this huge beat empire.
TOKiMONSTA: The reason Brainfeeder got so big is because we've been culminating this sound for a long time. Once you have Brainfeeder, which is a vehicle for people who really love Flying Lotus and want to hear other music like it, they get introduced to Ras G, who's more like Sun Ra; or Lorn, who's more on the Glitch Mob-electronic side; or my music, which has a softer perspective. Of course, when everyone listens to us for the first time, they're, like, "This sounds like Flying Lotus." But for us, it's more dynamic.
When you see all these radio stations and magazines supporting it, it's because they see the potential in it, and they realize how new it is for them. Because how often is it that a new genre pops up? Well, I mean, it is kinda often…but there's something fresh about it.
It's amazing for me, because I was never one that begged [Flying Lotus] to get put on. He gets shit sent to him every day from people trying to get put on Brainfeeder. But for me it was just as simple as, "Do you want to be a part of it?" And I said yes. From there, I remember him telling Mary Anne Hobbs about me, and then she just, like, totally started playing all my shit because she was so proud that there's a girl who's a part of this scene.
Plug One: Which label is putting out Midnight Menu?
TOKiMONSTA: Midnight Menu is coming out on a Japanese label called Art Union. It's interesting how I chose that label, because I didn't think about it very well at the time. I didn't realize that this would be my first full-length album. But at the time, I thought, oh cool, I get to put something else out again. In retrospect, I might not have done it. But I like this label. And in Japan, Art Union is a big distributor of independent music. I don't know what they're capable of on a global scale, but in Japan they're fully capable of doing most stuff. They really cared about putting out this album. They were very good to me and catered to the vision I saw.
Plug One: Do you have any releases planned for the Brainfeeder label?
TOKiMONSTA: Yes, I do. Technically, that album is done. I turned in all the tracks.
There are so many of us [on Brainfeeder] releasing albums in the fall that I think I will wait until next spring to put out the Brainfeeder album. It doesn't make sense to release another full-length album right after Midnight Menu. I'll let this one get out there, and then have the Brainfeeder one get out there. That one's going to be different, because Brainfeeder tends to be more for artistic value, and being creative for your own esteem. No one's obligated to make a dance album or something. I'm really proud of that one.
I'm proud of Midnight Menu, too, but the next one is another distinguishing step. I hope all of my releases have a direct relation where people can hear the music evolve, because it's really important from a listener's perspective to see an artist move on in an appropriate fashion without selling out, getting old, losing their touch or staying the same.
Plug One: Does it have a title yet?
TOKiMONSTA: No. I'm thinking about it. But I guess I have a theme. I like things associated with the night. Cosmic Intoxication has a nighttime vibe, Midnight Menu has a nighttime vibe, and the Brainfeeder album is going to have something associated with the night in the title, but probably not something as obvious as saying "midnight" again. I'll figure out a title soon.
www.tokimonsta.com
www.myspace.com/tokibeats
www.twitter.com/tokimonsta
www.facebook.com/tokimonsta
www.soundcloud.com/tokimonsta