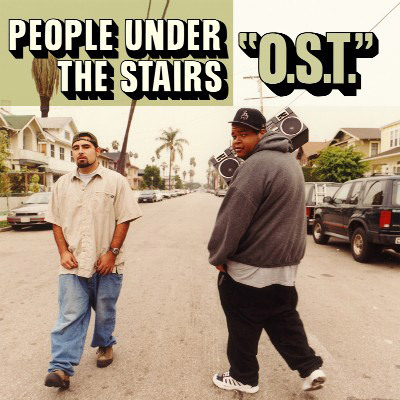 89. People Under the Stairs, O.S.T.
Om Records
Released June 4, 2002
First emerging in 1998 amidst an L.A. indie explosion led by Dilated Peoples, Jurassic 5 and the Lootpack, People Under the Stairs were the scrubs of the bunch. But producer/rapper Thes One and DJ/rapper Double-K's self-released 1998 debut, The Next Step, expressed a simplicity and charm that sometimes eluded their bigger rivals. Keenly aware of their underrated status, PUTS upped the ante on O.S.T.'s "The Outrage," calling out Madlib ("Fuck a loop digga, in my city man just stay home") and influential journalist Oliver Wang ("Oliver 'Mark Ass' Twang"). It permanently marked the group as scene outsiders.
Still, O.S.T. is an excellent reason for why the group continues to thrive. Its best tracks offer slices of Los Angeles life over funky soul breaks. "The Suite for Beaver Part 1" fleshes out a Friday night escapade with allusions to "one of those weeks stressing frequently" and "I felt no worries as I slid out south to Crenshaw Heights." "Acid Raindrops," a fan favorite, celebrates the ruminative powers of weed with poignancy. PUTS sound and look so much like their backpack audience that it's easy to forget how difficult it is to make dope hip hop.