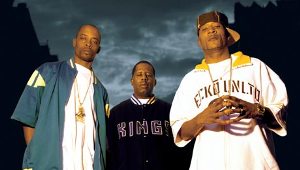 Next week, Brand Nubian will play four concerts with Connie Price & the Keystones for Scion's monthly Live Metro showcase. Originally from New Jersey, Grand Puba, Sadat X and Lord Jamar originally promoted a strong Five Percenter philiosophy on hits such as "Wake Up" and "One For All," which it makes it incredibly ironic that the trio makes its living from performing for multi-racial audiences (re: lots of white people) trying to the early 90s and hip-hop's so-called "golden age." Connie Price & the Keystones, the L.A. funk crew that's set to release its second album, Tell Me Something, on March 4, seem less complicated by comparison.
Soup, formerly of Jurassic 5, will make a special guest appearance during these sets. Each show will be managed by the trusty hands of Cosmo Baker, one half of NYC crate-diggers the Rub.
Despite Brand Nubian's contradictory nature, they should put on a good show full of singalong hits. Punks jump up to get beat down! The tour dates are below.
2/23: The Parish, Austin, TX
2/25: The Warehouse, Houston, TX
2/26: The Loft, Atlanta, GA
2/27: Cat's Cradle, Carrboro, NC
2/23-2/27: w/Soup, Cosmo Baker
www.myspace.com/conniepricethekeystones
www.scion.com/livemetro