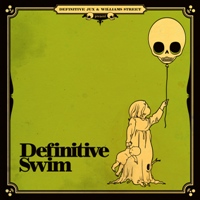 Last Tuesday, Definitive Jux became the latest indie rap label to collaborate with frat-boy icon Adult Swim. With Definitive Swim, it follows successful online releases from Danger Doom (Occult Hymn), Chocolate Industries (Chocolate Swim) and Stones Throw (Chrome Children 2). As with those efforts, Definitive Swim is a free download.
The microsite for Definitive Swim also features streaming audio of all ten tracks and an animated video for "Flyentology," the new single from El-P's upcoming I'll Sleep When You're Dead. The song, which isn't included in the download, features vocals from Trent Reznor; the clip is directed by Mundo Fase's Daniel Garcia and Nathan Love. You can visit the microsite here.
Definitive Swim includes contributions from new Def Jukkies Cool Calm Pete (plucked from sister label Embedded, thanks to his excellent 2005 disc Lost) and Despot in addition to the usual suspects.
In related news, the Williams Street crew announced details for the Aqua Teen Hunger Force soundtrack. Rap participants include Schoolly D (the Philly rap legend behind the classic "number one in the hood, G" theme song), MC Chris and Killer Mike. The disc hits stores on April 10, and the already-controversial film reaches theaters on April 13.
www.adultswim.com/williams/music/defswim
www.adultswim.com