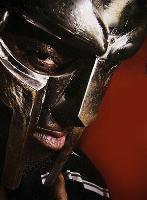 Two years ago, MF Doom was everywhere. He was still basking in the success of his Madvillain classic with Madlib, and had released one of the year's biggest albums, the Danger Doom banger with Danger Mouse. His early work for Fondle 'Em sold on Ebay for hundreds of dollars.
Since then, save for the odd guest appearance (he recently produced a track for Hell Razah's well-received Renaissance Child), the prolific Daniel Dumile has mostly disappeared from view. Dude may be a little eccentric, but he's a savvy businessman, cutting off the product just when he was in danger of being overexposed. Now, instead of thinking "Dang, another Doom album?", heads are eagerly waiting the man's next epic. When will Madvillain 2 come out? When will Def Jam finally allow Nature Sounds to put out Swift and Changeable, his album with Ghostface?
On July 24, MF Doom will re-issue his 2004 Rhymesayers album Mm…Food as an expanded CD/DVD package. Imaginatively wrapped in aluminum packaging like a candy bar, it includes a tour DVD, a sticker and a poster. New York zine Impose is also issuing a limited-edition 7-inch of Metal Fingers instrumental material. Finally, Doom is making a brief trip across the States. He'll mostly stick to major markets, and half of the dates are on the Rock the Bells tour. Hopefull all of these scraps are just mere appetizers for a full course meal in 2008. How's that for food metaphors? Tour dates are below.
7/29: Randall's Island, New York City, NY
8/08: TBA, San Diego, CA
8/10: Glasshouse, Pomona, CA
8/11: Hyundai Pavilion at Glen Helen, San Bernardino, CA
8/12: El Rey, Los Angeles, CA
8/15: The Independent, San Francisco, CA
8/16: The Independent, San Francisco, CA
8/18: McCovey Cove, San Francisco, CA
8/25: Metrodome, Minneapolis, MN
8/26: Charter One Pavilion, Chicago, IL
8/28: Blind Pig, Ann Arbor, MI
8/29: DTE Energy Music Theatre, Detroit, MI