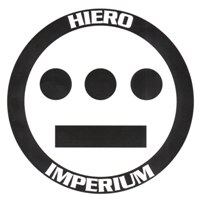 Hieroglyphics is a famously close-knit crew. Its members — Del the Funky Homosapien, Souls of Mischief and Casual — first united when they attended high school in the late 80s, and it's been on ever since. Domino mentored them as they built their careers, and in 1997 they added Pep Love to the lineup. A decade later, the group remains unchanged.
Their record label, Hiero Imperium, has occasionally released albums by artists that aren't Hiero crew. They released former Stones Throw homie Encore's second album Layover in 2004; and Yay Area weirdo Z-Man's Dope or Dog Food that same year. This year, however, will mark Hiero's busiest year in regards to recruiting outside talent.
At the top of the list is Musab. Often credited as the man who helped build Rhymesayers (his 1996 debut album as Beyond, Comparison, was the first Rhymesayers album with national distribution), the Minneapolis veteran has evolved from a street-savvy backpacker to a game-spitting pimp. Literally. His third album, The Slicks Box, drops August 14.
Also coming out is A Band Called Pain, a metal band out of San Francisco. Their album Broken Dreams may be Hiero's most uncharacteristic release to date; it hit stores on July 3.
Freestyle champ Knobody arrives courtesy of Triple I League, a subsidiary Hiero launched to nurture up-and-coming talent. His debut Tha Clean Up arrives on September 18. "Knobody's well of rhymes runs deep. The only other emcee I've heard who can consistently flow on the same subject throughout a song without having to switch up is Eminem," says Casual in a press release.
Finally, Prince Ali's debut album Curb Side Service comes out October 9. It features guest shots from Keith Murray, Planet Asia and Rakaa from Dilated Peoples as well as Hiero fam. "Hiero has always been about putting out quality music," says Tajai in a press release. "Ali is an artist who embodies Hiero's vision and we're excited about supporting him."
A Band Called Pain, Musab, Knobody and Prince Ali's releases will hopefully lead up to Del's long-awaited The 11th Hour. While a release date of October 16 was announced for that album last month, no further details have been revealed.
www.hieroglyphics.com
www.myspace.com/hieroglyphics