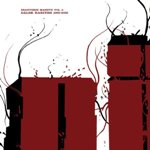 Dälek
Deadverse Massive vol. 1: Dalek Rarities 1999-2006
Hydra Head Records

Rating:





The Newark, New Jersey duo Dälek sound like Black Moon on acid. Taking a left turn from hip-hop's blunted-era via DJ Spooky's Songs of a Dead Dreamer, the group concern themselves with industrial white noise and doomsayer rhymes. They sound like little else, if only because their peers — the dub technicians at Wordsound, the electronic freestyle collective Anti-Pop Consortium — either no longer exist or have moved on to other terrain.
Deadverse collects sundry EPs and remixes from MC Dälek and producer Oktopus' career. It's as good an introduction as any to its aesthetic, if only Dälek's sonic techniques tend to be fairly consistent. But it can't compare to its more nuanced and complex full-lengths (including this year's Abandoned Language). Most of the tracks hold water, save for the annoyingly self-indulgent "Music for ASM," which stretches on for over 16 minutes. One cut particularly stands out: a Deadverse remix of Enon's "In This City" feels like a modernized trip-hop test, with Toko Yasuda's vocals stretching across Oktopus' sub-Massive Attack brickbeats.