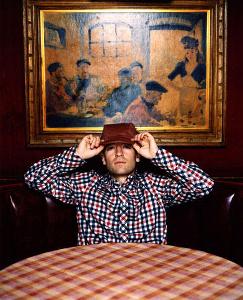 Unlike many of their indie brethren, the Stones Throw crew isn't known for doing shows. They're mostly content to lamp in the studio and maybe rock a DJ date in L.A., New York, London or some other major international city. Sitting in a hot-ass van and plowing through 50+ cities? That shit is for the birds.
So consider yourself lucky if they come to your town on the upcoming 2K8 Sports Bounce Tour "Holiday Edition" (also known as the B-Ball Zombie War tour). Just like last year's Chrome Children package tour, it won't be very comprehensive, and only encompass a baker's dozen of shows. Featured artists will be the mighty Madlib, Peanut Butter Wolf, Madlib's Supreme Team partner Karriem Riggins, onetime Beat Junkie J. Rocc, and rhyme inspector Percee P.
How rare is this tour? It's so rare that the lineup for some recently added shows (ATL and Baltimore) hasn't even been confirmed yet. Check out the itinerary below; as usual, I'll update as more details become available.
11/08: El Rey Theater, Los Angeles, CA
11/16: The Independent, San Francisco, CA
11/17: Berbatis Pan, Portland, OR
11/18: Neumo's, Seattle, WA
11/19: Richards on Richards, Vancouver, BC
11/29: Foundation, Minneapolis, MN
11/30: Abbey Pub, Chicago, IL
12/01: Opera House, Toronto, ON
12/02: Highline Ballroom, New York, NY
12/03: Starlight Ballroom, Philadelphia, PA
12/04: Paradise Lounge, Boston, MA
12/06: Black Cat, Washington, D.C.
12/07: Sonar, Baltimore, MD