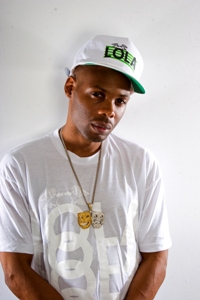 As one of the brightest exponents of Queensbridge street poetry, Cormega has produced albums startingly memorable in their forthrightness and honesty. His 2001 debut, The Realness, is a certified classic; the 2002 follow-up, The True Meaning, is nearly as good.
Cormega was silent for the past few years until he dropped two new projects this year on his Legal Hustle imprint. The first was merely executive produced by him: Legal Hustle Presents Got Beats? was an instrumental showcase featuring tracks from the Alchemist, DJ Premier, Buckwild, Ayatollah and others. The second, Who Am I? is a DVD documentary that chronicles his life through camcorder-style footage and minimalist music videos. It also includes a "soundtrack," a compilation of new songs with guests such as Styles P, Keak da Sneak, Yukmouth, Tragedy, Hell Rell, Fame from M.O.P., Little Brother and Psycho Realm. A single from it, "Sleep Well" featuring Dwele, has been serviced to enterprising jocks.
Who Am I? drops tomorrow (November 20), but it's hopefully just an appetizer to Cormega's new album, which is scheduled for release sometime next year. Check out the track listing and a video trailer for the former below.
1. "Sleep Well" (feat. Dwele)
2. "718" (feat. Fame)
3. "Use Mad Clips" (feat. Styles)
4. "Lookin' at It" (feat. Jacka, Keak da Sneak & Yukmouth
5. "Ryder Muzik" (feat. Tragedy)
6. "Throwback Homie" (feat. Hejaz)
7. "Who Am I Exclusive" (feat. Big Noyd & Nature)
8. "What Mobsters Do" (feat. Husalah, Unda P. & Fed X)
9. "Stuntin Remix" (feat. Hell Rell)
10. "Shade 45 Skit"
11. "Time" (feat. Ransom & Nicole Wray)
12. "The Rap Game" (feat. Little Brother)
13. "Triboro" (feat. Dead Eye, Ron Smack & Bags)
14. Donnie Castro, "Live from the Caves" (feat. Sick Jacken & Cynic)
15. Agallah, "King Me"
Here's the trailer for Who Am I?:
{youtube}wXutOEAbd4A{/youtube}